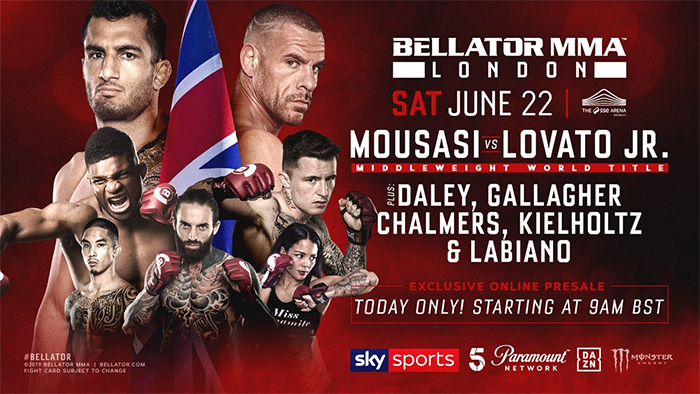 Bellator 223: Mousasi vs. Lovato Jr. (also known as Bellator London or Bellator Europe 3) is an upcoming mixed martial arts event to be held on June 22, 2019 at the SSE Arena in London, England.
Fight card

Main card (Channel 5 UK)
Middleweight Gegard Mousasi (c) vs. Rafael Lovato Jr.
For the Bellator Middleweight World Championship.
Middleweight Melvin Manhoef vs. Kent Kauppinen
Catchweight (160 lbs.) Aaron Chalmers vs. Fred Freeman
Bellator 223 Fight Card (DAZN & Paramount)
Welterweight Paul Daley vs. Erick Silva
Catchweight (140 lbs.) James Gallagher vs. Jeremiah Labiano
Middleweight Fabian Edwards vs. Jonathan Bosuku
Middleweight Mike Shipman vs. Costello van Steenis
Middleweight Charlie Ward vs. Justin Moore
Preliminary card

Lightweight Chris Bungard vs. Charlie Leary
Bantamweight Nathan Greyson vs. Frans Mlambo
Middleweight Kevin Fryer vs. John Redmond
Featherweight Nathan Rose vs. Luke Ord
Women's Flyweight Kate Jackson vs. Lena Ovchynnikova
Catchweight (161 lbs.) Terry Brazier vs. Alessandro Botti
Welterweight Walter Gahadza vs. Oliver Enkamp
Welterweight Galore Bofando vs. Keith McCabe
Welterweight Justin Burlinson vs. Wendle Lewis
Lightweight Alfie Davis vs. Jorge Kanella
Women's Flyweight Denise Kielholtz vs. Bryony Tyrell
Background
The event will feature a Bellator Middleweight World Championship bout between Gegard Mousasi and Rafael Lovato Jr.

Melvin Manhoef will return to action for the first time since 2017 at the event, facing England's Kent Kauppinen.

The event marks the third event in Bellator's European series, with the Bellator London portion of the card airing on Channel 5 in the UK, including the five-round middleweight title fight between current champ Gegard Mousasi and Rafael Lovato Jr.

The five fights billed as Bellator 223 will take place on Paramount Network and DAZN, with the headlining bout seeing Paul Daley and Erick Silva meet in a welterweight contest.
Jun 20 - Updated fight card & background