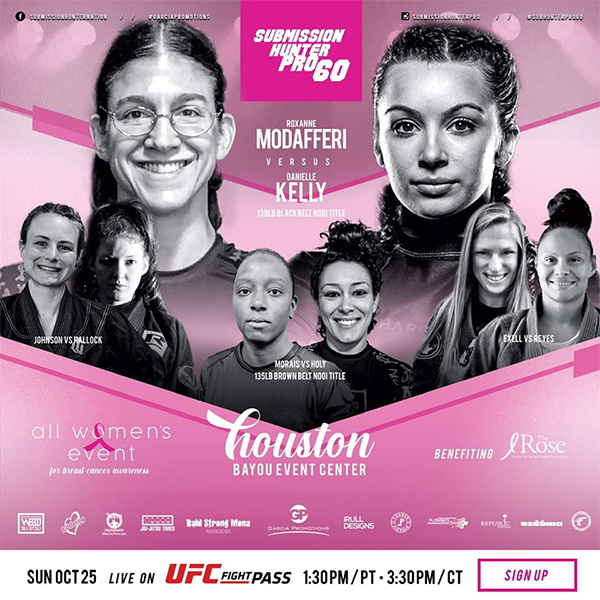 Submission Hunter Pro 60: Modafferi vs. Kelly is an all women's grappling event to take place on October 25, 2020 at the Bayou Event Center in Texas, United States.
Fight Card

Single Fights (UFC Fight Pass)
-Kids

Makayla Reyes (Travis Moore BJJ) VS Alyson Davis (GBLC)- 105 Grey Gi

-Teens

Mandy Schneider(Fight Spports) VS Esther Garwood(Carlson Gracie) – 115 Blue NoGi
Savannah Valle(17)(CheckMat) VS Mona Bailey(16)(Carlson Gracie) – 130 Blue NoGi

-Blue Belts

Elsa Cardenas (GB) VS Susana Morado (United JJ) – 125 Gi
Sue Cavazos(TNT) VS Kristin Kotinek(Renzo) – 125 NoGi
Mackenzie Manteris(Holy Grail) VS Ari Cobb- 135 NoGI
Janice Russell(27)(Dalua BJJ/A Force) VS Ashley Reger(29)(BTT) – 115 Gi
Janice Russell(27)(Dalua BJJ/A Force) VS Ashley Reger(29)(BTT) – 115 Gi
Yesenia Aguilera(22)(United JJ) VS Alex Amaro(25)(GB Pearland) – 170 Gi
Lorena Balli(32)(UFC Gym) VS Diana VanHouten(GB) – 125 Gi
Milana Villo(21)(Epic Fight and Fitness) VS Kenzie Landry(23)(Renzo) – 120 NoGi
Kelsey Carter(31)(Precision JJ) VS Adriana Marcela(32)(GB Pearland) – 135 Gi
Felicia Sterling (GFT/Paradigm) VS Bridgett Brumbaugh(37)(GB WestChase) – 140 Gi
Amalia Merrill(23)(Gracie Humaita) VS Ashley Martinez(25)(Tx 3rd Coast) – 115 Gi
Camilla Lopez(28)(Revolution Dojo) VS Lisa Ripley(31)(Pablo Silva) – 125 GI
Kiana Jackson(24)(Pinnacle) VS Katie Sauger(The DarkSide) – 165 NoGi
Heather Hebberger(30)(Team Alpha Male) VS Yomyra Tellez(24)(Royce Gracie/Virtues JJ) – 105 NoGi

-Purple Belt

Kola Shippentower(Siri BJJ) VS Danielle Walker(GFT) – 175 Gi
Jasmine Carchi(ITC) VS Isabella Barragan(Golden Triangle JJ) – 135 NoGi
Barb Ciesnolevicz(Cies MMA) VS Casey Daigle(Indigo JJ) – 160 NoGi
Lauren Sears(10th Planet) VS TBA – 120 NoGi
Danielle Guevara(Tx 3rd Coast) VS Angelica Arrambide(Team Tooke) – 125 Gi
Samantha Priddy(28)(Gracie Humaita) VS Alyssa Cantu (GrindHouse)- 135 Gi
Teara Lewis(31)(Elite Martial Arts) VS Amanda Toups(38)(Renzo Gracie LH) – 160 NoGi
Gabrielle Villafuerte(28)(Black Label) VS Stephanie Williamson(32)(CheckMat) – 150 Gi
Michelle Dominik(27)(Pedigo Submission Fighting) VS Cynthia Davis(42)(GB LC) – 130 Gi
Logan Rance(26)(GFT) VS Amanda Kail(The DarkSide) – 145 NoGi
Samantha Zavala (GB McAllen) VS Vanessa Lopez(25)(Tx 3rd Coast) – 115 Gi
Casidy Welch(40)(GB TX) VS Melissa Lozano(45)(Team Tooke) – 160 NoGi

-Brown Belt

Stefanie Kopacz(31)(Atos ATL) VS Maddy Fernandez(Bastos BJJ) – 160 NoGi
Alexa Yanes(RPBJJ) VS Priscilla Eckhardt(PS) – 125 Gi
Naomi Villa(Warlord BJJ) VS Leslie McLea(Elite MMA) – 150 Gi
Jill Viator(43)(Indigo BJJ) VS TBA – 130-140 Either
TBA VS Lindsey Boston(41)(Ares) – 120-125 Gi
Rebecca Tomada(30)(Ed Ramos) VS Mariana Azevedo(35)(GB Pearland) – 130 Gi
Jessa Khan (Atos) VS Alana Holy(The Holy Grail) – 125
NoGi Title


-Black Belt

Yani Reyes(33)(Sheridan) VS Liz Exell(39)(Vilanova BJJ) – 140 Gi
Erin Johnson(26)(Iron Roots BJJ) VS Laurah Hallock(29)(GFT) – 140 Gi
TBA VS Danielle Alvarez(Alvarez BJJ) – 135 NoGi
Erin Herle(30)(Dynamix MMA) VS Pamela Boveda(31)(Fight Sports/Kings MMA) – 145
Gi Title

Roxanne Modafferi(Dunham BJJ) VS Danielle Kelly(Silver Fox) – 130
NoGi Title
Background
The main event for this all women's event will feature BJJ phenom Danielle Kelly taking on UFC fan favorite Roxanne Modafferi for the NoGi championship.

A percentage of the proceeds from this event will go to Breast Cancer Research through @therosehouston .