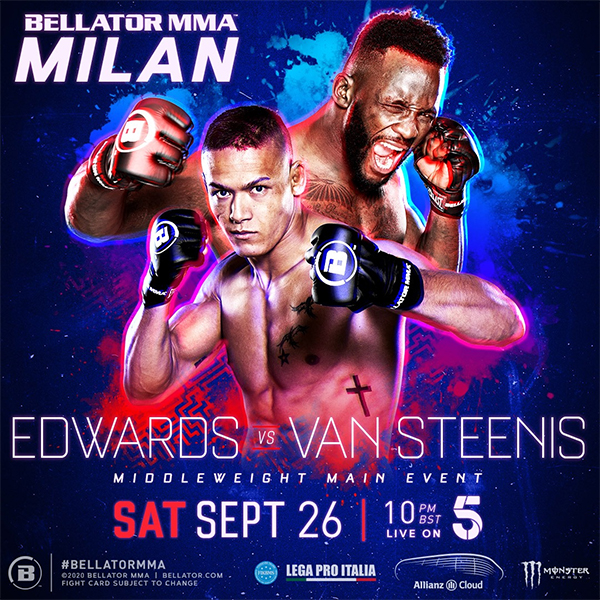 Bellator ES 8: Edwards vs. Van Steenis is a mixed martial arts event to take place on September 26, 2020 at the Allianz Cloud Arena in Milan, Italy.
Fight Card

Main Card (App / Channel 5)
Middleweight Fabian Edwards vs. Costello van Steenis
Middleweight Will Fleury vs. Kent Kauppinen
Middleweight Pietro Penini vs. Michael Shipman
Preliminary Card
Lightweight George Hardwick vs. Nicolò Solli
Welterweight Ion Pascu vs. Stefano Paterno
Lightweight Akonne Wanliss vs. Alfie Davis
Lightweight Daniel Scatizzi vs. Gavin Hughes
Featherweight Adien Lee vs. Jeremy Petley
Bantamweight Frans Mlambo vs. Corey Tait
Light Heavyweight Luke Trainer vs. Alex O'Toole
Featherweight Harry Hardwick vs. Richie Smullen
Women's Strawweight Chiara Penco vs. Aleksandra Plamenova
Woman's Strawweight Danni Neilan vs. Claire Lopez
Background
This event marks the organization's eighth European Series event.

The event will air on Channel 5 in the United Kingdom and will feature a middleweight bout between Fabian Edwards and Costello van Steenis..