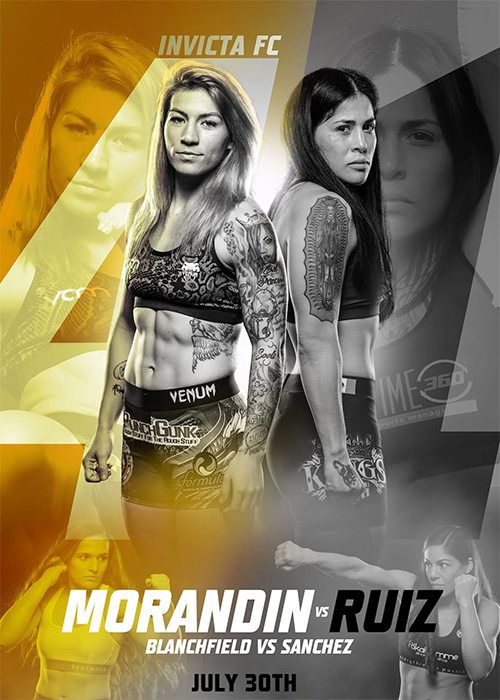 Invicta FC 41: Morandin vs. Ruiz is a mixed martial arts event to take place on July 30, 2020 at the Memorial Hall in Kansas City, Kansas, United States.
Fight Card

Main Card (UFC Fight Pass)
Strawweight Janaisa Morandin vs. Montserrat Ruiz
Flyweight Erin Blanchfield vs. Brogan Walker-Sanchez
Featherweight Kaitlin Young vs. Latoya Walker
Strawweight Kelly D'Angelo vs. Itzel Esquivel
Flyweight Caitlin Sammons vs. Claire Guthrie
Flyweight Natalya Speece vs. Alexa Culp
Background
The event is scheduled to be headlined by Janaisa Morandin and Montserrat Ruiz. The co-main event was set to feature Erin Blanchfield against Stephanie Geltmacher, however Geltmatcher was forced to withdraw and was replaced by Brogan Walker-Sanchez. On July 19, Cynthia Arceo was forced to withdraw from her bout against Itzel Esquivel and was replaced by Kelly D'Angelo.