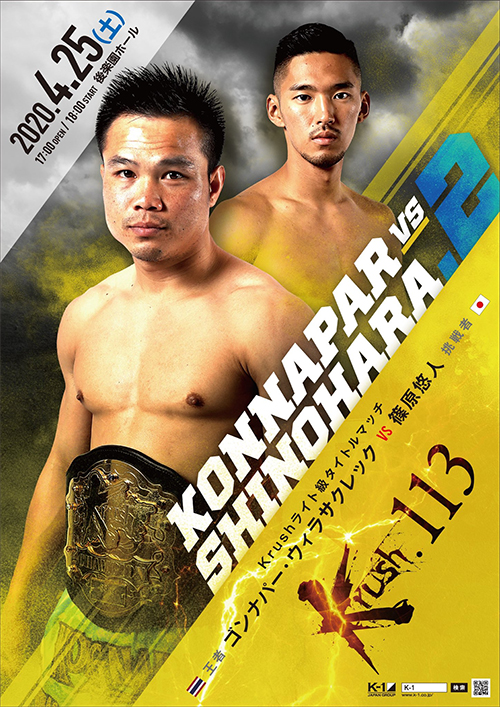 Krush 113: Kongnapa vs. Shinohara is an Upcoming Kickboxing Event to take place on Jun 28, 2020 at the Korakuen Hall in Bunkyo, Tokyo, Japan.
Fight Card

Main Card
Kongnapa Weerasakreck vs. Yuto Shinohara 138 lbs
KJP 63 kg Championship
Tsubasa Horii vs. Daiki Kaneko 138 lbs
Miho Takanashi vs. Masami 99 lbs
SEIYA vs. Hiroki 138 lbs
Kotomi vs. NA☆NA 110 lbs
Yuta Saito vs. Sho Oizumi 143 lbs
Ryuka vs. Takuma Tsukamoto 138 lbs
Yuki Takeuchi vs. Riki Shimura 138 lbs
Eiki Kurata vs. Yuga Kataoka 117 lbs
Kenshiro Koguchi vs. Natsuki Kitamura 132 lbs
Raito Tamagawa vs. Takumi Shima 117 lbs
Background
K-1 Krush 113 emanates from Korakuen Hall in Tokyo, Japan. The legacy of K-1 Kickboxing is one of the richest in international martial arts and they're back at it in a few weeks. Multiple title bouts are scheduled for the upper part of the marquee but the entire event has something for everyone. The 138 lb and 143 lb belts will be on the line with Kongnapa Weerasakreck vs Yuto Shinohara and Daizo Sasaki vs Kensei Kondo, respectively.

Expect high octane, fast-paced, hard-hitting action from some of the best pure stand-up practitioners in the world. True purveyors of the sweetest, most technical, nuanced aspects of the standup realm.