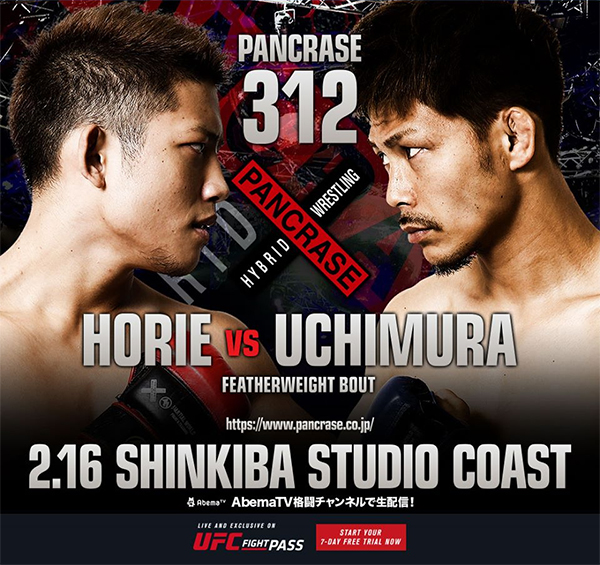 Pancrase 312: Horie vs. Uchimura is an upcoming mixed martial arts event to take place on February 16, 2020 at the Studio Coast in Tokyo, Japan.
Fight Card

Main Card (UFC Fight Pass)
Yoshinori Horie vs. Yojiro Uchimura 145 lbs
Taichi Nakajima vs. Boris Fedorov 145 lbs
Hidekazu Fukushima vs. Brady Huang 135 lbs
Yusuke Ogikubo vs. Satoru Enomoto 125 lbs
Akihiro Murayama vs. Yuki Kondo 170 lbs
Yuta Miyazawa vs. Toshiya Takashima 115 lbs
Ryo Hatta vs. Mijikai Nagai 115 lbs
Preliminary Card
Joji Goto vs. Rikiya Matsuzawa 135 lbs
Real King Date vs. Hiroshi Takahashi 170 lbs
Mayabu Date vs. Jinnosuke Kashimura 155 lbs
Kota Matsui vs. Yuto Inoue 145 lbs
Darani Date vs. Yu Dozono 145 lbs
Yota Tatsunari vs. Tatsuhiko Iwamoto 145 lbs
Shutaro Miyahira vs. Rui Imura 135 lbs
Junpei Ueno vs. Shinsuke Matsubara 135 lbs
Shuhei Noyama vs. Nobuaki Yamamoto 135 lbs
Seio Date vs. Hiroki Otani 135 lbs
Ryosuke Takasugi vs. Mutsuki Miyajima 135 lbs
Kenji Nakayama vs. Haruki Kawakita 125 lbs
Tatsuki Okano vs. Terunari Inoue 125 lbs
Kohei Maeda vs. Naoya Takeuchi 125 lbs
Keito Yamakita vs. Masaya Oshiro 115 lbs
Masataka Hiraga vs. Kota Sahara 115 lbs
Takatsugu Kusumi vs. Taiga Tanimura 115 lbs
Background
The main event fight between Saduroev Solihon and Saika Yanbo Tatsuya for the Lightweight Interim King of Pancrase was cancelled when Solihon injured his hip in training. Instead Horie vs. Uchimura serves as main event. This Pancrase event also features tournaments.
Feb 15 - Updated fight card