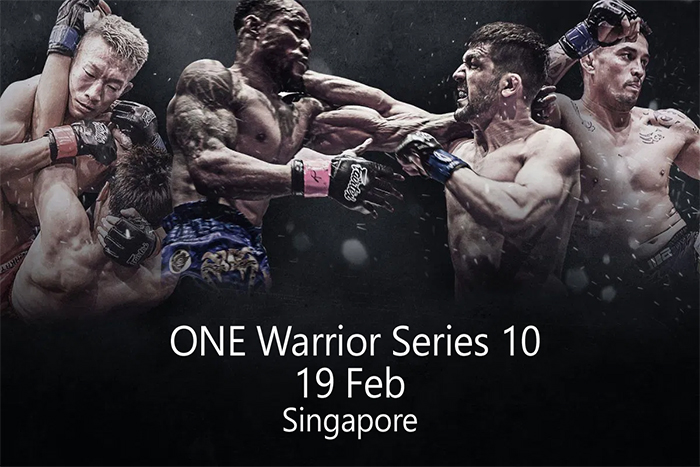 ONE Warrior Series 10 is an upcoming mixed martial arts event to take place on February 19, 2020 in Singapore, Singapore.
Fight Card

Main Card
Byung Hee Lim vs. Kieran Joblin 155 lbs
Alan Philpott vs. Ahmed Faress 155 lbs
Min Hyuk Lee vs. Ryoji Kudo 155 lbs
Sasha Moisa vs. Shahzaib Rindh 155 lbs
Mehdi Bagheri vs. Koji Shikuwa 185 lbs
Michael Walker vs. Kanta Motoyama 135 lbs
Danie van Heerden vs. Arash Mardani 243 lbs
Marc Grayson vs. Rick Alchin 205 lbs
Muhammad Sulaiman vs. Susovan Ghosh 125 lbs
Marie Ruumet vs. Anita Karim 115 lbs
Myung Gu Kim vs. James Bishop 145 lbs
Joey Baylon vs. Manthan Rane 132 lbs
Peter Danasoe vs. Irfan Ahmed 125 lbs
Saksit Janhom vs. Shammah Chandran 145 lbs
Seung Hyun Cho vs. Rana Singh 135 lbs
Background
The OWS 10 card will feature 15 match-ups as athletes from five continents aim to make a big impression and earn a contract to compete on the main ONE Championship roster.

There will be 13 competitors who will make their OWS debuts in Singapore, but the bill also features a host of familiar faces who will try to build on their previous success and make the leap to the global stage.