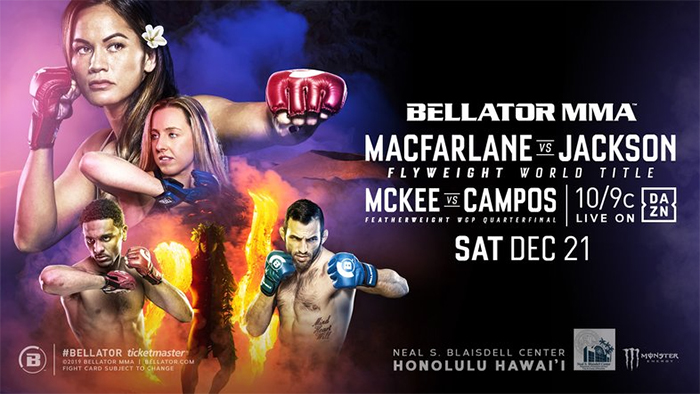 Bellator 236: Macfarlane vs. Jackson is an upcoming mixed martial arts event to take place on December 21, 2019 at Neal S. Blaisdell Arena in Honolulu, Hawaii, United States.
Fight Card

Main Card (DAZN)
Women's Flyweight Ilima-Lei Macfarlane (c) vs. Kate Jackson
Women's Flyweight World Championship
Featherweight A.J. McKee vs. Derek Campos
Featherweight World Grand Prix Quarter-Final Round bout
Welterweight Kiichi Kunimoto vs. Jason Jackson
Women's Flyweight Juliana Velasquez vs. Bruna Ellen
Bantamweight Raufeon Stots vs. Cheyden Leialoha
Preliminary Card
Bantamweight Swayne Lunasco vs. Kaylan Gorospe
Lightweight Keoni Diggs vs. Scotty Hao
Flyweight Nate Yoshimura vs. Chas Dunhour
Featherweight Kai Kamaka III vs. Spencer Higa
Welterweight Kona Oliveira vs. Benjamin Wilhelm
Lightweight Dustin Barca vs. Brandon Pieper
Lightweight Nainoa Dung vs. Zachary Zane
Background
The event will feature a Bellator Women's Flyweight World Championship bout between the champion Ilima-Lei Macfarlane and Kate Jackson.

Neiman Gracie was expected to face Kiichi Kunimoto at the event. Gracie pulled out a few days before the event due to injury. Kunimoto will instead face Jason Jackson.