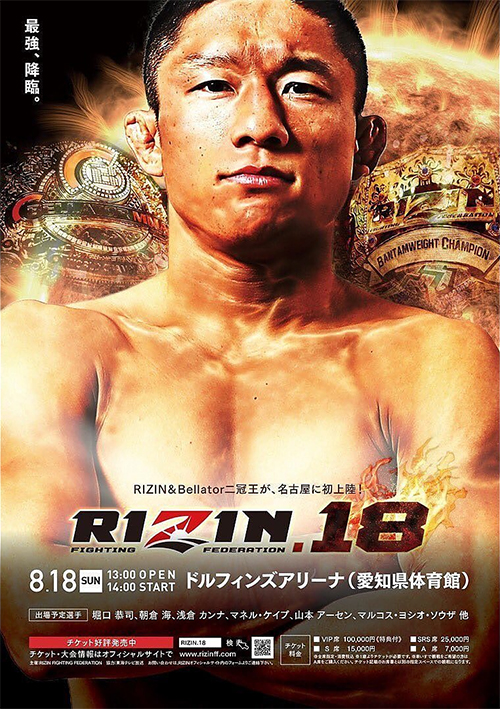 Rizin 18: Nagoya will be a Combat sport event held by the Rizin Fighting Federation on August 18, 2019 at the Aichi Prefectural Gymnasium in Nagoya, Japan.
Fight Card

Main Card (FITE)
Bantamweight 61 kg Japan Kyoji Horiguchi vs. Japan Kai Asakura
Super Atomweight 49 kg Japan Ayaka Hamasaki vs. Thailand Suwanan Boonsorn
Bantamweight 61 kg Australia Trent Girdham vs. United States Victor Henry
Bantamweight 61 kg Japan Takeya Mizugaki vs. Angola Manel Kape
Catchweight 75 kg Australia John Wayne Parr vs. Brazil Danilo Zanolini
Kickboxing
Intermission
Super Atomweight 49 kg Japan Kanna Asakura vs. United States Alesha Zappitella
Strawweight 53 kg Japan Haruo Ochi vs. United States Jarred Brooks
Lightweight 71 kg Japan Hiroto Uesako vs. France Yves Landu
Lightweight GP Qualifying Round
Bantamweight 61 kg Japan Kazuma Sone vs. United States Justin Scoggins
Catchweight 59 kg Japan Takaki Soya vs. Japan Yutaro Muramoto
Super Atomweight 49 kg Japan Ai Shimizu vs. United States Tabatha Watkins
Flyweight 53 kg Japan Shota Takiya vs. Japan Kazuki Osaki
Kickboxing
Flyweight 57 kg Japan Ryuji Horio vs. Japan Uchu Sakurai
Kickboxing

Background
Marcos de Souza, was set to fight at RIZIN 18, but his debut was pushed back because of a injury.

Kazuma Sone was expected to face Erson Yamamoto, But plans have changed for undisclosed reasons. That forced the fight to be cancelled. Justin Scoggins has stepped in as a replacement.