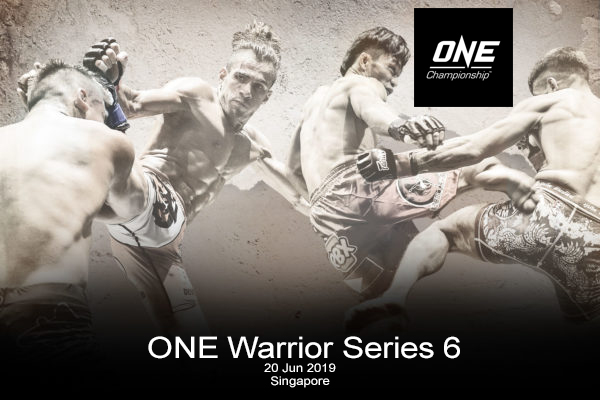 ONE Warrior Series 6 is a mixed martial arts event scheduled to take place on June 20, 2019 in Kallang, Singapore.
Fight Card

Main Card (App & YT)
Hyun Jin Lee vs. Shinechagtga Zoltsetseg 155 lbs
Myung Gu Kim vs. Jerry Olsim 155 lbs
Devon Morris vs. Javed Mulla 185 lbs
Carlos Prates vs. Gadjimurad Abdulaev 185 lbs
Zechariah Lange vs. Alan Philpott 145 lbs
Takuya Nagata vs. Kieran Joblin 170 lbs
Ji Yeon Seo vs. Edilah Johany 115 lbs
Irfan Ahmed vs. Sandeep Kumar 125 lbs
David Banguigui vs. Susovan Ghosh 125 lbs
Allan Albindo vs. Manthan Rane 125 lbs
Peter Danasoe vs. Nyan Lin Sai 135 lbs
Viet Anh Do vs. Taeho Park 135 lbs
Michele Ferreira vs. Satomi Takano 115 lbs
Jace Law vs. Jong Heon Kim 155 lbs
Gunter Kalunda Ngunza vs. Mehdi Bagheri 185 lbs
Nat Natchayangkul vs. Xiaoxiang Xie 185 lbs
Background
Six-figure contracts up for grabs at ONE Warrior Series 6 on 20 June. The athletes who deliver the best performances will be in contention for a coveted ONE Championship contract worth in excess of US$100,000.