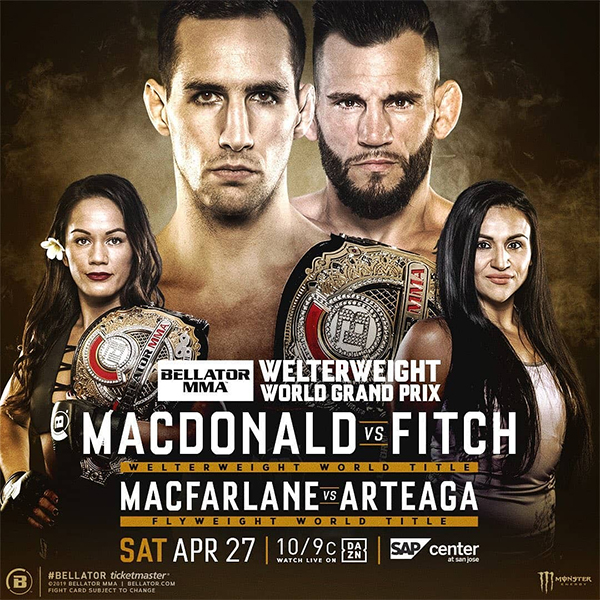 Bellator 220: MacDonald vs. Fitch is scheduled to take place on April 27, 2019 at SAP Center in San Jose, California, United States.
Fight Card

Main Card (DAZN)
Welterweight Rory MacDonald (c) vs. Jon Fitch
Welterweight WGP Quarter-final
Women's Flyweight Ilima-Lei Macfarlane (c) vs. Veta Arteaga
For the Bellator Women's Flyweight Championship title
Lightweight Benson Henderson vs. Adam Piccolotti
Light Heavyweight Phil Davis vs. Liam McGeary
Lightweight Gaston Bolanos vs. Nathan Stolen
Preliminary Card (Bellator.com & App)
Welterweight Tom Ponce De Leon vs. Jamario Mulder
Middleweight Diego Herzog vs. Jordan Williams
Flyweight Justin Tenedora vs. Matthew Perez
Welterweight Abraham Vaesau vs. Justin Roswell
Lightweight Aviv Gozali vs. Travis Crain
Catchweight Josh San Diego vs Brandon Laroco
Featherweight Boris Novachkov vs Chris Inocencio
Featherweight Ignacio Ortiz vs Roger Severson
Background
The event will feature a Bellator Welterweight Championship bout between the champion Rory MacDonald and Jon Fitch.

The event will also feature a Bellator Women's Flyweight Championship bout between the champion Ilima-Lei Macfarlane and Veta Arteaga.