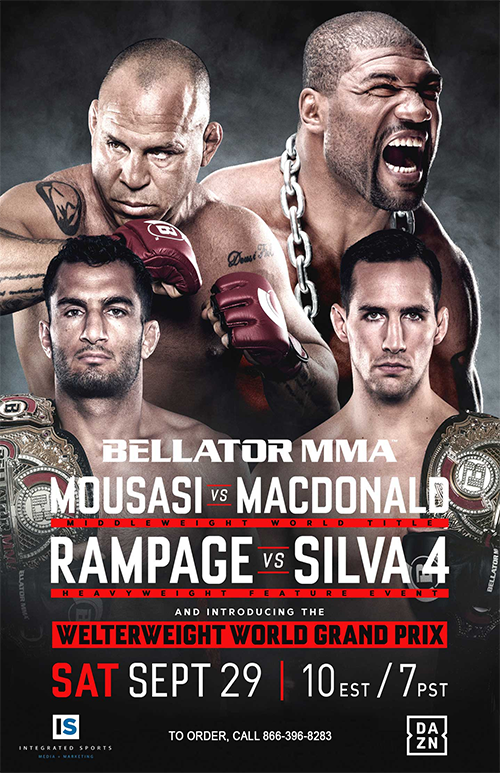 Bellator 206: Mousasi vs. MacDonald is scheduled to take place on September 29, 2018 at the SAP Center in San Jose, California, United States.
Fight card

Main card (Paramount Network)
Middleweight Gegard Mousasi (c) vs. Rory MacDonald
For the Bellator Middleweight Championship.
Heavyweight Quinton Jackson vs. Wanderlei Silva
Welterweight Douglas Lima vs. Andrey Koreshkov
Quarter-final round bout of the Bellator Welterweight Grand Prix.
Featherweight Aaron Pico vs. Leandro Higo
Women's Strawweight Keri Melendez vs. Dakota Zimmerman
Preliminary card (Paramount Network.com)
Featherweight Ignacio Ortiz vs. Jacob Ycaro
Middleweight Abraham Vaesau vs. DeMarco Villalona
Women's Featherweight Arlene Blencowe vs. Amber Leibrock
Catchweight (160 lbs) Adam Piccolotti vs. James Terry
Featherweight Gaston Bolanos vs. Ysidro Gutierrez
Featherweight Justin Smitley vs. Jeremiah Labiano
Bantamweight Joe Neal vs. Josh San Diego
Light Heavyweight Chuck Campbell vs. Joseph Ramirez
Lightweight Anthony Figueroa vs. Samuel Romero
Bantamweight Isaiah Batin-Gonzalez vs. Khai Wu
Featherweight Ricky Abdelaziz vs. Laird Anderson
Lightweight Don Mohammed vs. Salvador Becerra
Bantamweight Cass Bell vs. Ty Costa
Background
The event will see Bellator welterweight champion Rory MacDonald move up to the middleweight division to challenge Bellator middleweight champion Gegard Mousasi for the Bellator middleweight title. MacDonald will attempt to become the second multi-division champion in Bellator history, joining former Bellator bantamweight and featherweight champion Joe Warren.

In addition, former UFC light heavyweight champion Quinton Jackson will meet rival and former PRIDE FC middleweight champion Wanderlei Silva for the fourth time in their respective careers. Silva currently holds a 2-1 advantage in the series.

Bellator has also announced that this event will feature the start of their inaugural welterweight grand prix tournament. Fighters expected to participate in the tournament are Rory MacDonald, Jon Fitch, Douglas Lima, Andrey Koreshkov, Paul Daley, Michael Page, Neiman Gracie, Ed Ruth, Lorenz Larkin, and Erick Silva, who replaced Yaroslav Amosov.

The event will stream live on DAZN in the USA, Canada, Germany, Austria, Switzerland, Japan and Italy as part of their new rights agreement.