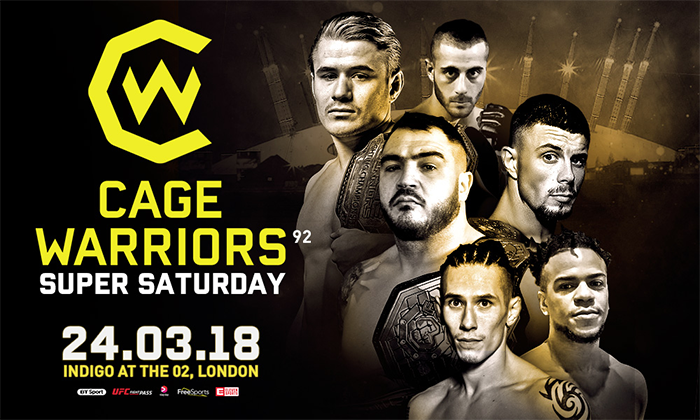 Cage Warriors 92: Super Saturday is scheduled to take place on March 24, 2018 at 02 Indigo in London, England.
Fight Card

Main Card 1 (UFC Fight Pass)
Nathaniel Wood vs. Luca Iovine 135 lbs
Craig White vs. Alex Montagnani 170 lbs
Jack Shore vs. Vaughan Lee 135 lbs
Corrin Eaton vs. Dean Trueman 145 lbs
Main Card 2 (UFC Fight Pass)
Mauro Cerilli vs. Karl Moore 265 lbs
Sam Creasey vs. Nathan Greyson 125 lbs
Jamie Richardson vs. Sam Boult 170 lbs
Mehrdad Janzemini vs. Brad Wheeler 170 lbs
Preliminary Card (Facebook)
Thomas Terdjman vs. Cameron Else 145 lbs
Aiden Lee vs. Tom Mearns 145 lbs
Pelu Adetola vs. M. Bukauskas 205 lbs
James Webb vs. Marcin Prostko 185 lbs
Salih Kulucan vs. Darren O'Gorman 135 lbs
Background
Cage Warriors returns to London for it's biggest event in recent history. The event features two separate main cards. 3 world title fights will be staged across the two cards. Reigning light-heavyweight champion Moore will look to evade Cerilli's knockout power to become the first man to hold Cage Warriors titles in 2 weight divisions since Conor McGregor.