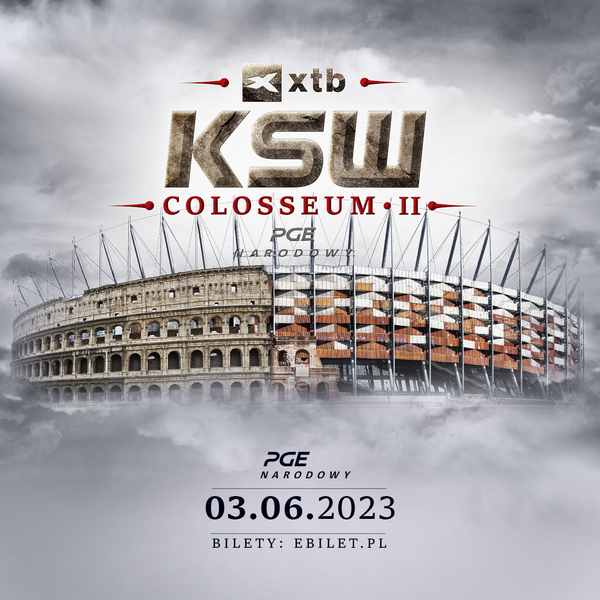 KSW 83: Khalidov vs. Askham 3 (also known as XTB KSW 83: Colosseum 2) will be a mixed martial arts event held by Konfrontacja Sztuk Walki on June 3, 2023 at the PGE Narodowy in Warsaw, Poland.
Fight Card

Main card
Middleweight 84 kg Poland Mamed Khalidov vs. England Scott Askham
Lightweight 70 kg Poland Marian Ziółkowski (c) vs. France Salahdine Parnasse (ic)
Lightweight Championship
Heavyweight 120 kg Poland Mariusz Pudzianowski vs. Poland Artur Szpilka
Middleweight 84 kg Poland Paweł Pawlak vs. Poland Tomasz Romanowski
Middleweight Championship
Heavyweight 120 kg Poland Arkadiusz Wrzosek vs. Romania Bogdan Stoica
Middleweight 84 kg Poland Radosław Paczuski vs. Poland Michał Materla
Bantamweight 61 kg Poland Jakub Wikłacz (c) vs. Brazil Werlleson Martins
Bantamweight Championship
Lightweight 70 kg Moldova Valeriu Mircea vs. Poland Roman Szymański
Featherweight 66 kg Poland Daniel Rutkowski vs. Poland Adam Soldaev
Lightweight 70 kg Czech Republic Leo Brichta vs. Poland Maciej Kazieczko
Heavyweight 120 kg Poland Krzysztof Głowacki vs. Poland Patryk Tołkaczewski
Background
Three KWS title fights were scheduled for the event: a KSW Lightweight Championship bout between champion Marian Ziółkowski and interim champion Salahdine Parnasse; a KSW Middleweight Championship bout between champion Paweł Pawlak and challenger Tomasz Romanowski; as well as a KSW Bantamweight Championship between champion Jakub Wikłacz and Werlleson Martins.

A heavyweight bout between Arkadiusz Wrzosek and former two-time world kickboxing champion Bogdan Stoica is expected to take place at the event. Stoica will make his MMA and promotional debut.