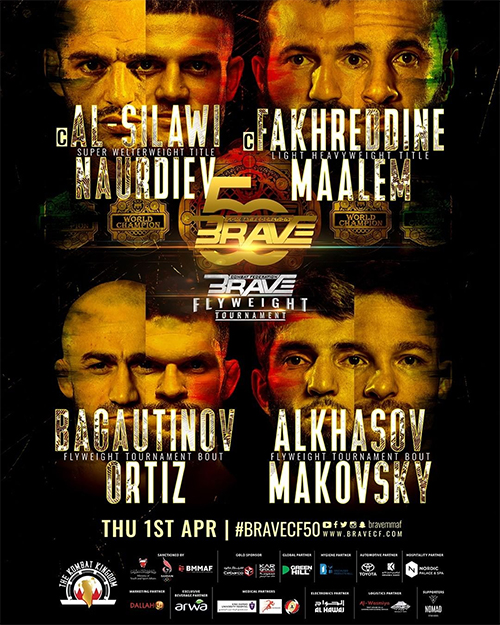 BRAVE CF 50: Al-Silawi vs. Naurdiev is an upcoming mixed martial arts event scheduled for April 1, 2021 at the Arad Fort in Bahrain.
Fight Card

Main Card
Super Welterweight 79.5 kg Jordan Jarrah Hussein Al-Silawi (c) vs. Austria Ismail Naurdiev
Super Welterweight Championship
Catchweight 74 kg France Amin Ayoub vs. Uzbekistan Mashrabjon Ruziboev
Light Heavyweight 93 kg Lebanon Mohammad Fakhreddine vs. Algeria Mohamed Said Maalem
Light Heavyweight Championship
Flyweight 57 kg Russia Ali Bagautinov vs. United States Dustin Ortiz
Flyweight Tournament Quarter-Final Bout
Flyweight 57 kg Russia Velimurad Alkhasov vs. United States Zach Makovsky
Flyweight Tournament Semi-Final Bout
Super Lightweight 75 kg Belgium Issa Isakov vs. Germany Mohamed Grabinski
Super Welterweight 79.5 kg Switzerland Kevin Ruart vs. Denmark Louis Glismann
Light Heavyweight 93 kg Sweden Anton Turkalj vs. Belarus Vadim Litvin
Bantamweight 61 kg Canada Brad Katona vs. Serbia Borislav Nikolić
Middleweight 84 kg South Africa Mzwandile Hlongwa vs. Russia Rustam Chsiev
Catchweight 77 kg England Carl Booth vs. El Salvador Carlos Belloso
Bantamweight 61 kg Russia Bair Shtepin vs. Russia Alexander Keshtov
Featherweight 66 kg England Shoaib Yousaf vs. South Africa Steven Goncalves
Lightweight 71 kg Poland Maciek Gierszewski vs. Serbia Stefan Zvijer
Lightweight 71 kg Luxembourg Yann Liasse vs. Russia Magomed Magomedov
Background
Jarrah Hussein Al-Silawi is scheduled to defend his BRAVE Super Welterweight title against the promotional newcomer Ismail Naurdiev.

In the co-main event, Amin Ayoub was scheduled to make the first defense of his Lightweight title against the 8-fight BRAVE veteran Ahmed Amir. However, a week before the event, Amir had to pull out due to injury and was replaced by Mashrabjon Ruziboev, who will fight Ayoub in a 74 kg catchweight non-title fight.

The third title fight scheduled for the event is a fight for the vacant light-heavyweight title, between the current BRAVE Middleweight champion Mohammad Fakhreddine and Mohamed Said Maalem.

The former UFC flyweights, Ali Bagautinov and Dustin Ortiz, are scheduled to fight each other as part of the BRAVE Flyweight Tournament. Anonther quarter-final bout of the tournament is likewise scheduled for the event: a rematch between Velimurad Alkhasov and Zach Makovsky.