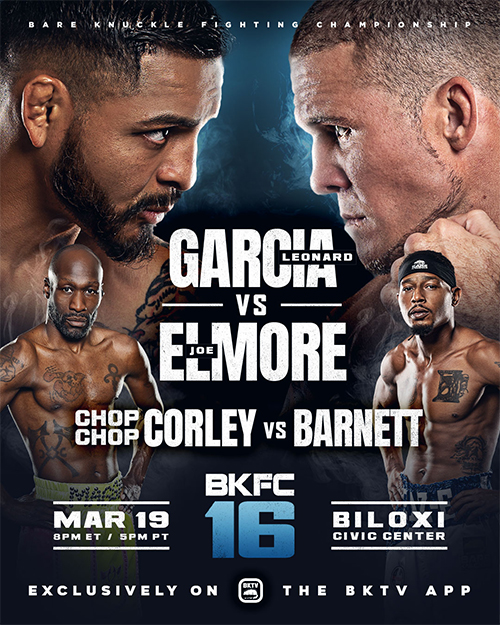 BKFC 16: Garcia vs. Elmore will be a bare knuckle boxing event held on March 19, 2021 at the Biloxi Civic Center in Biloxi, Mississippi, United States.
Fight Card

Main Card
Leonard Garcia vs. Joe Elmore
Reggie Barnett Jr vs. Chop Chop Corley
Bobo O'Bannon vs. Arnold Adams
Melvin Guillard vs. Scott O'Shaughnessy
Kaleb Harris vs. Noah Cutter
Brad Kelly vs. Elvin Brito
Adam Pellerano vs. Mark Irwin
Adrian Miles vs. Jason Fish
Audra Cummings vs. Randine Eckholm
David Diaz vs. Spencer Ruggeri
Ryan Jones vs. Eric Thompson
Zion Tomlinson Sr. vs. Tyler Hill
Background
In the main event of the evening, UFC veteran Leonard "Bad Boy" Garcia will be facing off against undefeated Joe Elmore! The co-main event for the evening will feature the highly anticipated debut of professional boxing standout Chop Chop Corley as faces BKFC veteran Reggie Barnett Jr (5-1). The featured heavyweight bout of the night will be hometown favorite Bobo O'Bannon vs. the highly dangerous Arnold Adams.