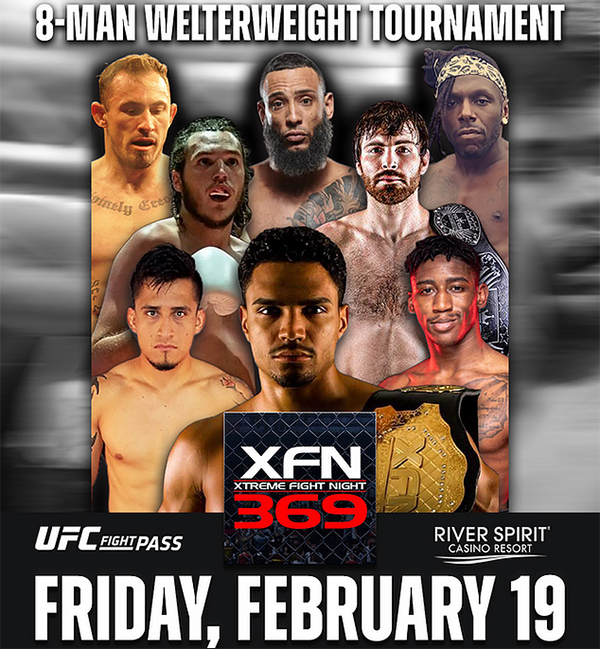 XFN 369 is a 8-Man Welterweight Kickboxing Tournament to take place on February 19, 2021 at the River Spirit Casino Resort in Tulsa, Oklahoma, United States.
Fight Card

Tournament (UFC Fight Pass)
Matt Dixon [XFN Mma Champion & Undefeated Kickboxer]
Cody Nieto [Former XFN Welterweight Kickboxing Champion]
Peter Stanonik [GLORY Kickboxer & Bellator Mma Veteran]
Brutus Glenn [Amateur Kickboxing Champion]
Blayne Slavik [Unbeaten Welterweight Kickboxer]
Jake Lindsey [UFC Veteran & Reigning XFN Kickboxing Champion]
Ariel Juarez [2019 XFN Kickboxing Tournament Semi-finalist]
Aj Weathersby [Bare Knuckle Karate World Champion]
Background
Eight of America's hardest hitters collide in this action-packed 8-Man Kickboxing Tournament on February 19 at River Spirit Casino Resort in Tulsa. Don't miss this epic night of knockouts, where the champion must win three fights in one night! Hosted by UFC champion Frank Mir, and broadcast live and exclusive worldwide on UFC Fight Pass!

The Xtreme Fight Night 369 kickboxing event scheduled to take place December 4, 2020 in Tulsa, Oklahoma has been rescheduled for February 19, 2021.