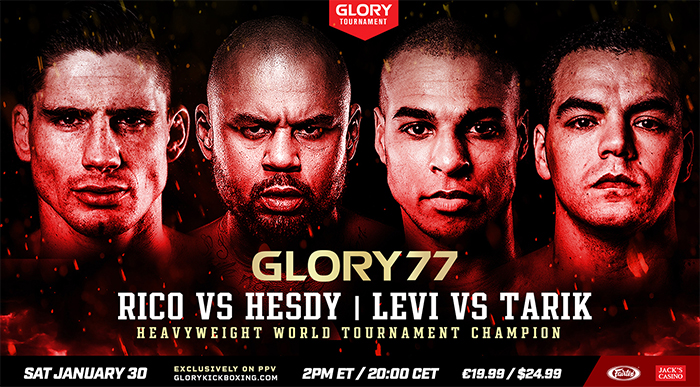 Glory 77: Rotterdam will be a kickboxing event held by Glory on January 30, 2021 at the Rotterdam Ahoy in Rotterdam, Netherlands.
Fight Card

Main Card
Heavyweight 120 kg Winner Semi-Final A vs. Winner Semi-Final B
Heavyweight Tournament Final
Light Heavyweight 95 kg Russia Artem Vakhitov (c) vs. Brazil Alex Pereira (ic)
Light Heavyweight Championship
Welterweight 77 kg France Cédric Doumbé (c) vs. Netherlands Murthel Groenhart (ic)
Welterweight Championship
Heavyweight 120 kg Morocco Tarik Khbabez vs. Netherlands Levi Rigters
Heavyweight Tournament Semi-Finals B
Heavyweight 120 kg Netherlands Rico Verhoeven vs. Netherlands Hesdy Gerges
Heavyweight Tournament Semi-Finals A
Super Bantamweight 55 kg United States Tiffany van Soest (c) vs. Brazil Aline Pereira
Super Bantamweight Championship
Light Heavyweight 95 kg Netherlands Luis Tavares vs. Suriname Donegi Abena
Preliminary Card
Lightweight 70 kg Israel Itay Gershon vs. France Guerric Billet
Heavyweight 120 kg Slovakia Martin Pacas vs. Netherlands Muhammed Balli
Background
The main event was initially set to feature the Glory Heavyweight champion Rico Verhoeven who was supposed to defend his Glory Heavyweight Championship against his longtime foe Jamal Ben Saddik in a trilogy bout, but Ben Saddik was forced off the card on January 19 due to a back injury. Instead, the event will be headlined by a 4-man heavyweight tournament. Rico Verhoeven will face Hesdy Gerges in the first semi-final of the tournament and Glory newcomer Tarik Khbabez will square off with Levi Rigters in the second semi-final of the tournament. Rigters step in on short notice to face Khbabez who was set to make his GLORY debut against Antonio Plazibat. However, Plazibat pulled out two week before the event due to an injury sustained during his camp.

The co-main event of the evening will feature the Glory light heavyweight champion Artem Vakhitov against the Glory middleweight champion and the interim Glory light heavyweight champion Alex Pereira for the undisputed Glory Light Heavyweight Championship.

Cédric Doumbé will fight Murthel Groenhart in a trilogy bout to unify the Glory Welterweight Championship. Groenhart was previously scheduled to face Cedric Doumbe to unify the title at glory 76, but Groenhart was forced off the card with an injury.

The Glory Super Bantamweight champion Tiffany van Soest will make her first title defense, of her second title reign, against the #2 ranked Glory super bantamweight Aline Pereira.

In the second light heavyweight bout of the card, the #2 ranked Luis Tavares is scheduled to fight the #4 ranked Donegi Abena.

Former K-1 fighter Raul Cătinaș was expected to make his GLORY debut against Martin Pacas in a heavyweight bout. However, Cătinaș pulled out on January 13 due to testing positive for COVID-19. Promotional newcomer Muhammed Balli steps in to fight Pacas on just two weeks notice.

The event will be available as a pay per view.