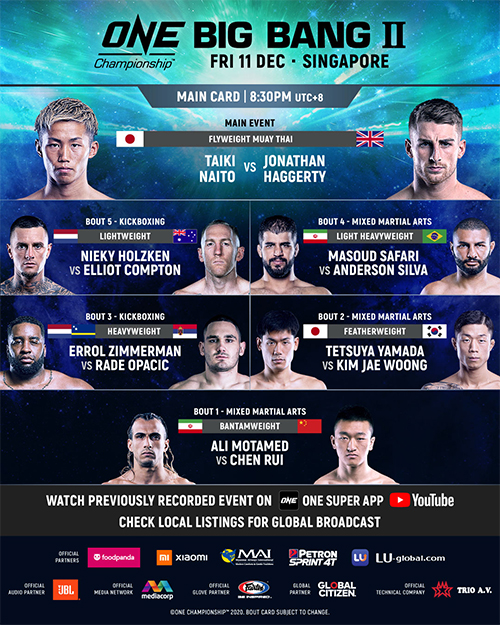 ONE Championship 123: Big Bang 2 will be a Combat sport event broadcast by ONE Championship on December 11, 2020 at the Singapore Indoor Stadium in Kallang, Singapore.
Fight Card

Main Card
Flyweight 61 kg Japan Taiki Naito vs. England Jonathan Haggerty
Muay Thai
Lightweight 77 kg Netherlands Nieky Holzken vs. Australia Elliot Compton
Kickboxing
Featherweight 70 kg Japan Tetsuya Yamada vs. South Korea Kim Jae Woong
Heavyweight 120 kg Curaçao Errol Zimmerman vs. Serbia Rade Opacic
Kickboxing
Welterweight 84 kg Malaysia Agilan Thani vs. United States Tyler Mcguire
Bantamweight 66 kg Iran Ali Motamed vs. China Chen Rui
Background
ONE: Big Bang 2 will be headlined by a Muay Thai fight between Taiki Naito and Jonathan Haggerty. In the co-main event, Nieky Holzken will return from a year long layoff to take on Elliot Compton.

Errol Zimmerman returns from a two year hiatus from kickboxing to fight Rade Opacic. In the remaining MMA bouts, Tetsuya Yamada is scheduled to fight Kim Jae Woong, and Ali Motamed will fight Chen Rui.

Masoud Safari was scheduled to face Anderson (Braddock) Silva, but was removed from the card when Silva stepped up to face Aygün on ONE Championship: Big Bang card.

A welterweight fight between Agilan Thani and Tyler McGuire was later added.