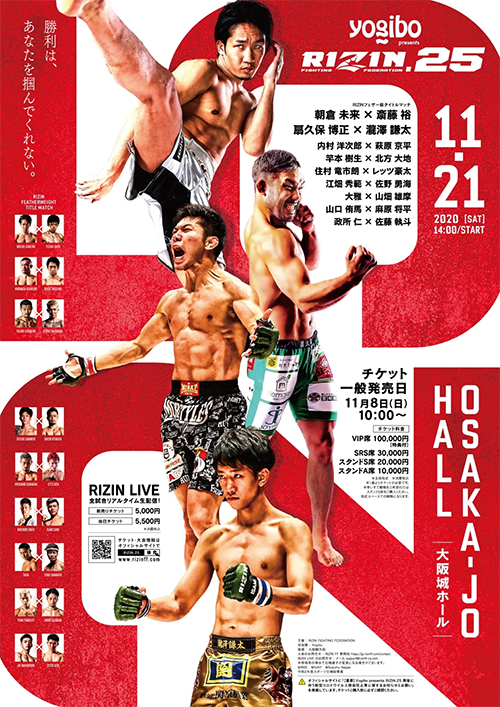 Rizin FF 25: Osaka will be a Combat sport event held by Rizin Fighting Federation on November 21, 2020 at the Osaka-jō Hall in Osaka, Japan.
Fight Card

Main Card
Featherweight 66 kg Japan Mikuru Asakura vs. Japan Yutaka Saito
Inaugural Rizin Featherweight Championship
Bantamweight 61 kg Japan Hiromasa Ougikubo vs. Japan Kenta Takizawa
Welterweight 77 kg Japan Ryuichiro Sumimura vs. Japan Gota Yamashita
Flyweight 57 kg Japan Tatsuki Saomoto vs. Japan Daichi Kitakata
Exhibition Grappling Demonstration
Brazil Roberto de Souza
Japan Kleber Koike Erbst
Japan Hari Sakamoto
Japan Misaki Akita
Preliminary Card
Featherweight 66 kg Japan Yojiro Uchimura vs. Japan Kyohei Hagiwara
Catchweight 60.5 kg Japan Taiga Kawabe vs. Japan Yuma Yamahata
Kickboxing
Catchweight 83 kg Japan Hidenori Ebata vs. Japan Isami Sano
Kickboxing
Featherweight 66 kg Japan Kotetsu Boku vs. Japan Rikuto Shirakawa
Catchweight 53 kg Japan Jin Mandokoro vs. Japan Syuto Sato
Kickboxing
Catchweight 63 kg Japan Yuma Yamaguchi vs. Japan Shohei Asahara
Kickboxing
Background
During the press conference prior to Rizin 25, Rizin CEO Nobuyuki Sakakibara confirmed that nine fights were finalized for the card.

Rizin standout Mikuru Asakura will fight the former Shooto Lightweight champion Yutaka Saito for the inaugual featherweight title. Former Bantamweight title challenger Hiromasa Ougikubo is scheduled to fight Kenta Takizawa. Former starwweight King of Pancrase Daichi Kitakata is scheduled to face the ZST Flyweight champion Tatsuki Saomoto.

Two additional MMA bouts were announced: Yojiro Uchimura vs. Kyohei Hagiwara in the featherweight division and Ryuichiro Sumimura vs. Gota Yamashita in the welterweight division. The remaining four fights are kickboxing bouts: Taiga Kawabe will fight Yuma Yamahata, Yuma Yamaguchi is scheduduled to fight Shohei Asahara, Hidenori Ebata will take on Isami Sano and Jin Mandokoro is set to go up against Syuto Sato. A fight between Kotetsu Boku and Rikuto Shirakawa was later added to the card.