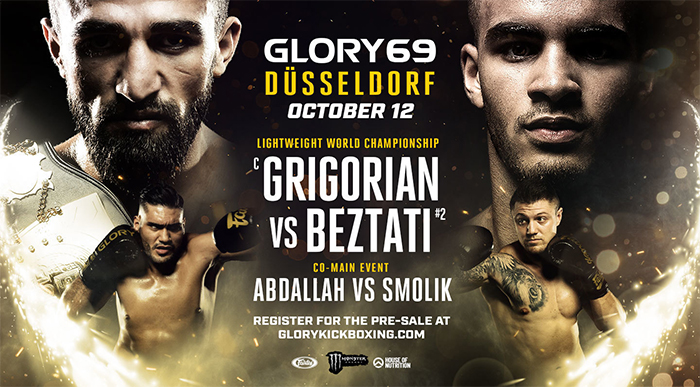 Glory 69: Düsseldorf is a kickboxing event to be held by Glory on October 12, 2019, at the ISS Dome in Düsseldorf, Germany.
Fight Card

Glory 69 Main Card (UFC Fight Pass)
Lightweight 70 kg Armenia Marat Grigorian (c) vs. Morocco Tyjani Beztati
For the Glory Lightweight Championship
Heavyweight 120 kg Germany Michael Smolik vs. Germany Mohamed Abdallah
Light Heavyweight 95 kg Cape Verde Luis Tavares vs. Netherlands Michael Duut
Middleweight 85 kg Tunisia Yousri Belgaroui vs. Democratic Republic of the Congo Ulrik Bokeme
Welterweight 77 kg Switzerland Yoann Kongolo vs. Russia Dmitry Menshikov
Superfight Series (UFC Fight Pass)
Super Bantamweight 55 kg England Christi Brereton vs. France Sarah Moussaddak
Heavyweight 120 kg Slovakia Tomas Mozny vs. Croatia Antonio Plazibat
Welterweight 77 kg Germany Dani Traoré vs. Montenegro Arian Sadikovic
Light Heavyweight 95 kg Brazil Felipe Micheletti vs. France Stéphane Susperregui
Light Heavyweight 95 kg Lithuania Sergej Maslobojev vs. Azerbaijan Bahram Rajabzadeh
Preliminary Card (YT)
Lightweight 70 kg Netherlands Massaro Glunder vs. England Luke Whelan
Lightweight 70 kg Russia Vlad Tuinov vs. Poland Artur Saładiak
Featherweight 65 kg Japan Masaya Kubo vs. Australia River Daz
Middleweight 85 kg Germany Jakob Styben vs. Netherlands Kevin van Heeckeren
Lightweight 70 kg Germany Vincent Foschiani vs. Australia Matthew Stevens
Background
The world lightweight championship is on the line in the main event as reigning champion Marat Grigorian (61-11-1, 35 KO's) makes his first defense of the title he took from former champion Sitthichai earlier this year.

Challenging Grigorian is young contender Tyjani 'The Wonderboy' Beztati (19-3, 6 KO's), who is taking a shot at the world title for the second time.

Beztati, 21, who debuted at GLORY 36 as the youngest fighter ever to sign a GLORY contract, rides a three-fight win streak into this title shot and brings a 9-2 GLORY record to the ring with him.

This five-round main event will be the first time that Grigorian and Beztati have met in the ring, making this a highly-anticipated encounter for fans across the planet.

In the co-main event, German heavyweights Michael Smolik (31-0, 23 KO's) and Mohamed Abdallah (18-3, 5 KO's) will settle their long-running war of words when they meet in the ring.

Smolik, fighting out of Crailsheim, Baden-Württemberg and Abdallah, fighting out of Cologne, North Rhine-Westphalia have engaged in several heated verbal exchanges but have never fought before now.

Tensions between Abdallah, a training partner of GLORY heavyweight champion Rico Verhoeven, and Smolik, a former police officer turned actor, have risen steadily this year and will reach their conclusion in Düsseldorf on October 12.