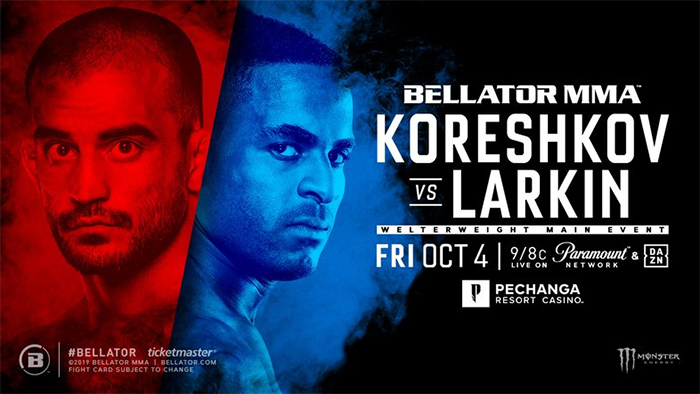 Bellator 229: Koreshkov vs. Larkin is a mixed martial arts event to take place on October 4, 2019 at Pechanga Resort and Casino in Temecula, California, United States.
Fight Card

Main Card (PM & DAZN)
Welterweight Andrey Koreshkov vs. Lorenz Larkin
Lightweight Saad Awad vs. Goiti Yamauchi
Middleweight Joe Schilling vs. Tony Johnson
Catchweight (118 lbs.) Keri Ann Melendez vs. Mandy Polk
Welterweight Derek Anderson vs. Guilherme Bomba
Preliminary Card
Middleweight Anatoly Tokov vs. Hracho Darpinyan
Featherweight Adel Altamimi vs. Salim Mukhidinov
Featherweight Jay Jay Wilson vs. Jorge Juarez
Lightweight Sunni Imhotep vs. Kelvin Gentapanan
Middleweight Jordan Newman vs. Riley Miller
Middleweight Johnny Eblen vs. Mauricio Alonso
Lightweight Vladimir Tokov vs. Brandon Hastings
Welterweight Joey Davis vs. Jeffrey Peterson
Background
The event will feature a welterweight bout between former Bellator Welterweight Champion Andrey Koreshkov and Lorenz Larkin.