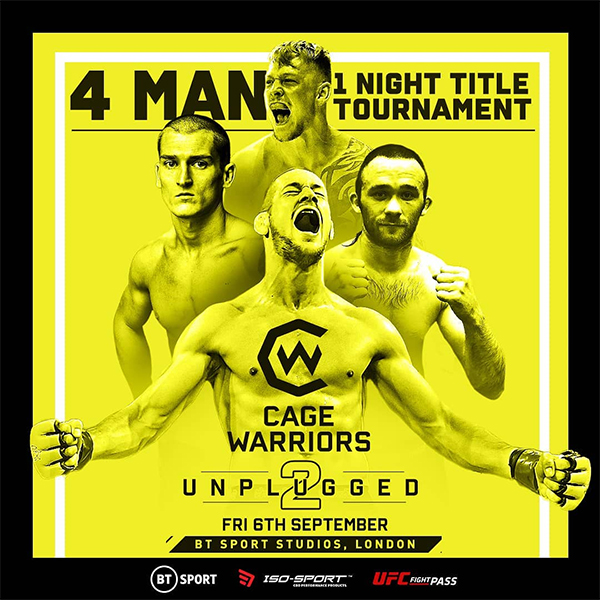 Cage Warriors: Unplugged 2 is a mixed martial arts tournament event to take place September 6, 2019 at the BT Studio in Stratford, London, England.
Fight Card

Main Card (UFC Fight Pass)
TBD vs. TBD
Bantamweight Tournament Final for the World title
Joe McColgan vs. Mehdi Ben Lakhdhar 155 lbs
Craig White vs. Louis Glismann 170 lbs
Preliminary Card
Tom Mearns vs. Declan McAleenan 150 lbs
Josh Reed vs. Marko Kovacevic 135 lbs
Bantamweight Tournament Semi-Final
Scott Malone vs. Jack Cartwright 135 lbs
Bantamweight Tournament Semi-Final
Ayton De Paepe vs. Tanio Pagliariccio 135 lbs
Bantamweight Tournament Alternate Bout
Martyn Harris vs. Ian Garry 170 lbs
Background
Europe's leading MMA promotion returns to BT Sport Studios for their second 'Unplugged' event, featuring an exciting card of emerging talent – and for a one-night, four-man bantamweight title tournament, which will conclude with a new champion crowned on the night.

Cage Warriors Unplugged 2 will be invite-only, with no tickets being released on general sale to the public, and will be broadcast live on BT Sport 1 and UFC Fight Pass.