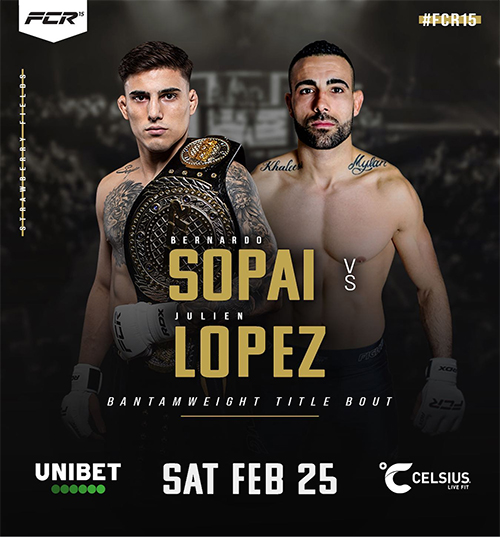 FCR 15: Sopai vs. Lopez is a mixed martial arts event promoted by Fight Club Rush and will take place on February 25, 2023 at the Quality Hotel Friends in Solna, Sweden.
Fight Card

Main Card (UFC Fight Pass)
Bernardo Sopai vs. Julien Lopez 135 lbs
Bantamweight Championship
Fernando Flores vs. Alexander Lööf 145 lbs
Wasi Adeshina vs. Glenn McVeigh 145 lbs
Enrique Hecher Sosa vs. Frederik Skov Strauss 135 lbs
Patrik Pietilä vs. Moein Ahmadi 155 lbs
Christian Stigenberg vs. Simon Seiler 170 lbs
Ognjen Babić vs. Ahouzi Kouamé 170 lbs
Mack Promanee vs. Amir Malekpour 125 lbs
Martin Corney vs. Sherwan Khalil 145 lbs
Daniel Karlsson vs. Tommi Leinonen 185 lbs
Preliminary Card
Liam Pitts vs. David Hedlund 135 lbs
Jaafer Mohammed vs. Anton Hellström 155 lbs
Najib Adams vs. Erik Olofsson 220 lbs
Background
On February 25th Fight Club Rush will return to the Swedish capital of Stockholm with a card that is getting more and more stacked with each announcement. Now the main event is official.

FCR bantamweight champion Bernardo "The Lion King" Sopai (9-2) will defend his title against Frances Julien "Boyka" Lopez (5-2-1) in the headlining bout at FCR 15!


For several years Sopai was one of Allstars Training Centers best kept secrets, though the truth of his potential was revealed, much to the delight of the fans.

Sopai had built up a respectable record on the Balkan MMA scene since his pro debut in 2016, before moving to Stockholm, where he secured a TKO victory in November of 2019.

That vicious victory earned Sopai a shot in Brave CF against undefeated Canadian kickboxer Tariq Ismail. Sopai delivered a thrilling performance, forcing a takedown attempt from his opponent, winning a clear-cut decision after three rounds of dominance. Sopai would go on to lose his following bout in the promotion against Italian prospect Francesco Nuzzi via a razor thin split decision.

Despite the loss, "The Lion King" was pitted against Ukrainian bruiser Karlen Minasian in the main event of FCR 13, in a bout that would crown a new bantamweight champion. After a slow first round the tempo picked up and Sopai secured a second round knockout finish to claim the title in his adopted hometown.


Lopez has been competing professionally since 2014, mostly in his neighbouring country of Belgium - as MMA wasn't legalised in France until 2019.

While the Frenchman experienced mixed results early in his career, amassing a 2-1-1 record, he began finding his groove in 2018. As it stands today Lopez has won three out of his last four bouts with all wins coming by way of first round finish!


Anything can happen in MMA, but the odds of Sopai vs Lopez going the distance are minimal at best.