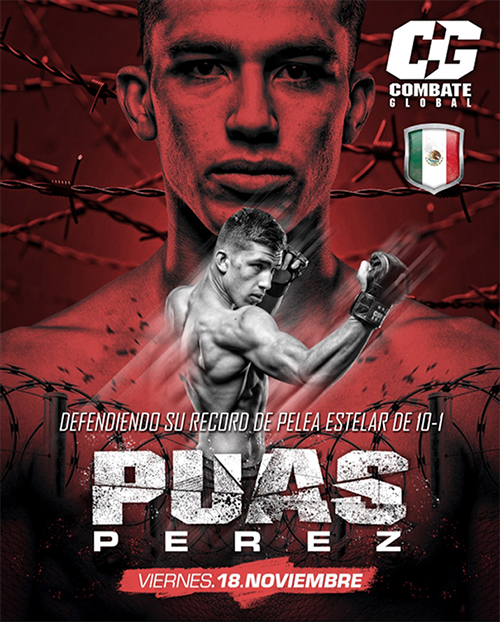 Combate Global 60: Ordoñez vs. Perez is an upcoming mixed martial arts event scheduled for November 18, 2022 at the Mediapro Studios in Miami, Florida, United States.
Fight Card

Main Card
Lightweight Mexico Cristian "Puas" Perez (10-1) vs. Colombia Gilber Ordoñez Huila (10-5)
Women's flyweight United States Maritza Sanchez (3-1) vs. Ireland Dee Begley (3-1)
Welterweight Mexico Ovidio Bojorquez (3-1) vs. United States Eddie Perez Bruno (2-1)
Preliminary Card
Lightweight Mexico Alejandro Velasco (8-5) vs. United States Richie Palomino (5-4)
Women's Atomeight United States Natalie Schlesinger (1-1) vs. Mexico Jharely Reyes (0-1)
Background
Combate Global today announced a five-bout Mixed Martial Arts (MMA) lineup for its final event of the year.

In the lightweight (155 pounds) main event, 23-year-old Mexican sensation Cristian "Puas" Perez (10-1) will enter La Jaula, the Combate Global competition cage, for the third time this year and face off with scrappy veteran and Combate Global newcomer, Gilber Ordoñez Huila (10-5).

Hailing from Ensenada, B.C. and fighting out of Miami, Perez is a Combate Global homegrown talent, who has been competing for the organization since his professional debut in 2019. In 2021, the upstart caught the attention of the greater MMA world for the first time when he submitted Geraldo Almonte with a heel hook in just 29 seconds in Combate Global action.

Perez is a ground fighting specialist, who has earned 7 of his 10 professional career victories by way of (T)KO or submission. His only loss came by way of unanimous decision at the hands of American Enrique Gonzalez in the championship stage of a one-night, eight-man tournament in which Perez had already defeated two previous opponents that same night.

The 31 year-old Ordoñez Huila of San Juan de Pasto, Colombia is a former competitive boxer who transitioned to MMA in 2013 and ran to seven straight wins as well as a regional championship in his first seven professional MMA starts.

Last year, Ordoñez Huila left Colombia for Warsaw, Poland where he had the opportunity to compete for three different promoters. He is looking to rebound from a June 18 unanimous decision loss at the hands of Norbert Daszkiewicz in Orodoñez Huila's sole start this year.

Returning to La Jaula in the women's flyweight (125 pounds) co-main event will be another Combate Global homegrown talent in Maritza Sanchez (3-1), who will take on fellow streaking upstart Dee Begley (3-1).

Fighting out of Placerville, Calif., the 24-year-old Sanchez will look for her fourth consecutive Combate Global victory following a unanimous decision win over Aitana Alvarez of Spain on April 15.

Begley is a 27-year-old native of Dublin, Ireland and protégé of famed trainer John Kavanagh. Like Sanchez, Begley will seek out her fourth straight win following back-to-back conquests in Combate Global this year.

At welterweight (170 pounds), Ovidio Bojorquez (3-1) of Hermosillo, Son., Mexico will make his way back to La Jaula less than two months after he turned in a highlight reel performance with a flying knee strike knockout of Matthew Colquhoun in the first round (2:53) of their meeting on September 24. Bojorquez will do battle with Eddie Perez Bruno (2-1) of Orlando, Fla.

A lightweight preliminary bout card attraction will pit Alejandro "Bam Bam" Velasco (8-5) of Ensenada against Richie Palomino (5-4) or Irvine, Calif.

Also in action on the undercard will be Natalie Schlesinger (1-1) of Tinton Falls, N.J. Schlesinger will face Jharely Reyes (0-1) of Ensenada at atomweight (105 pounds).
Nov 17 - Updated fight card & background