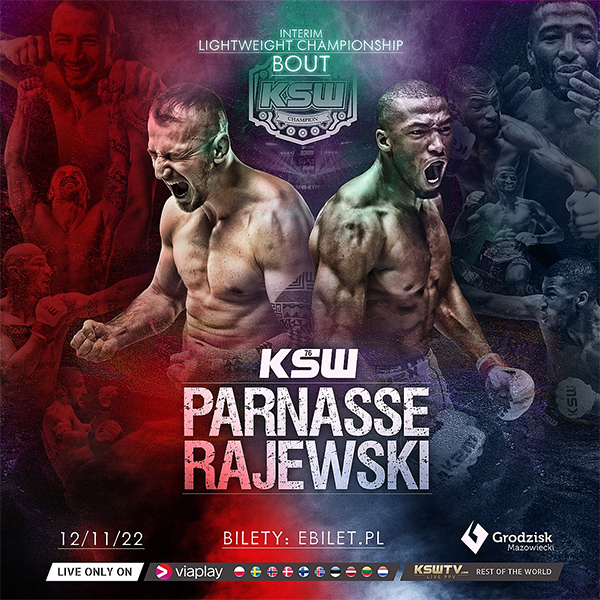 KSW 76: Parnasse vs. Rajewski will be a mixed martial arts event held by Konfrontacja Sztuk Walki on November 12, 2022 at the sports and entertainment hall in Grodzisk Mazowiecki, Poland.
Fight Card

Main Card
Lightweight 70 kg France Salahdine Parnasse vs. Poland Sebastian Rajewski
interum Lightweight Championship
Welterweight 77 kg Poland Adrian Bartosiński vs. Poland Krystian Kaszubowski
Middleweight 84 kg Poland Paweł Pawlak vs. England Tom Breese
Welterweight 77 kg Poland Artur Szczepaniak vs. Netherlands Brian Hooi
Lightweight 70 kg Poland Maciej Kazieczko vs. Argentina Francisco Barrio
Bantamweight 61 kg Croatia Antun Račić vs. Georgia (country) Zuriko Jojua
Middleweight 84 kg Poland Albert Odzimkowski vs. Republic of Ireland Henry Fadipe
Lightweight 70 kg Poland Gracjan Szadziński vs. Moldova Valeriu Mircea
Heavyweight 120 kg Poland Marek Samociuk vs. Croatia Filip Bradarić
Background
KSW 76 goes down this Saturday, November 12 live from Grodzisk Mazowiecki in Poland.

KSW featherweight champion Salahdine Parnasse (16-1) moves up to lightweight to meet Poland's Sebastian Rajewski (12-7) for the KSW interim-lightweight title in the main event. The 24-year-old French sensation was originally set to challenge Marian Ziolkowski for the title but a knee injury ruled the champ out of the bout.

Now he faces former title contender Sebastian Rajewski who pushed Ziolkowski a full five rounds back in June at KSW 71. The popular Polish fighter was on a three-fight win-streak heading into the title challenge and is the brother of Lukasz Rajewski, a former opponent of Parnasse.

The co-main event of KSW 76 will see an all-Polish contest between the undefeated Adrian Bartosinski (12-0) and former title contender Krystian Kaszubowski (10-2). The winner here will take step forward towards the vacant KSW welterweight championship.

Elsewhere on the card, Pawel Pawlak (20-4-1) meets top UK fighter Tom Breese (15-3) in a big middleweight clash, the Netherlands' Brian Hooi (18-8) faces Belgium based Pole Artur Szczepaniak (8-1) in a the battle of Benelux, and former lightweight contender & KO artist Maciej Kazieczko (8-2) meets multiple Pan American medalist Francisco 'Croata' Barrio (10-2).