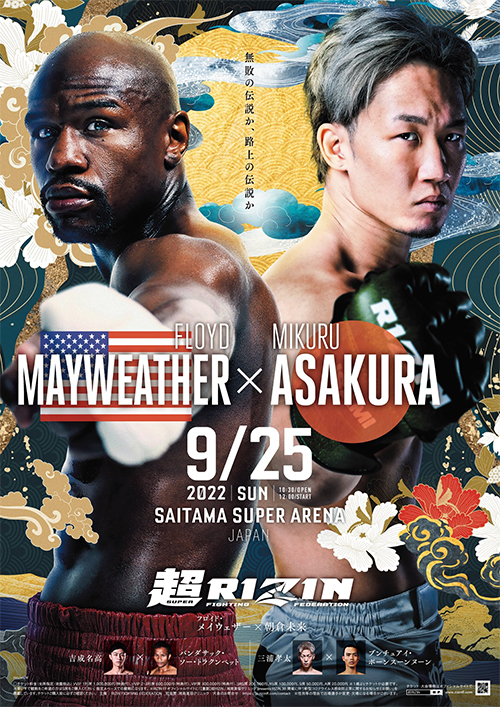 Super Rizin & Rizin 38 will be a Combat sport event held by Rizin Fighting Federation split into two parts: Super Rizin, which is catered to foreign audience and Rizin 38, which is scheduled to begin five hours later, on September 25, 2022, at the Saitama Super Arena in Japan.
Fight Card

Super Rizin
Catchweight Japan Mikuru Asakura vs. United States Floyd Mayweather Jr.
Exhibition boxing
Openweight Japan Kouzi vs. United States Jizzy
Kickboxing
Catchweight 53 kg Japan Nadaka Yoshinari vs. Thailand Bandasak So Trakunpet
Kickboxing
Featherweight 66 kg Japan Kota Miura vs. Thailand Bunchuai Phonsungnoen
Rizin 38
Bantamweight 61 kg Japan Kyoji Horiguchi vs. Japan Yuto Hokamura
Bantamweight 61 kg Japan Hiromasa Ougikubo vs. South Korea Soo Chul Kim
Super Atomweight 49 kg Japan Seika Izawa vs. Ukraine Anastasiya Svetkivska
Super Atomweight Grand Prix Semifinals
Super Atomweight 49 kg South Korea Si Woo Park vs. Japan Ayaka Hamasaki
Super Atomweight Grand Prix Semifinals
Lightweight 71 kg Japan Juri Ohara vs. Brazil Luiz Gustavo
Featherweight 66 kg Japan Kyohei Hagiwara vs. Japan Chihiro Suzuki
Heavyweight 120 kg Japan Shoma Shibisai vs. Brazil Cally Gibrainn de Oliveira
Background
The event is expected to be headlined by an exhibition boxing match between the boxing great Floyd Mayweather Jr. and Japanese mixed martial artist and YouTuber Mikuru Asakura.

The 2021 Rizin Bantamweight Grand Prix winner Hiromasa Ougikubo was booked to face current Road FC Featherweight champion (also former ONE Bantamweight World Champion) Soo Chul Kim in a bantamweight non-title bout.

The Rizin Super Atomweight Grand Prix Semifinals bouts took place during the event, which saw Si Woo Park face Ayaka Hamasaki and Seika Izawa face Anastasiya Svetkivska. Izawa was originally expected to face Rena Kubota, who was forced to withdraw due to injury.