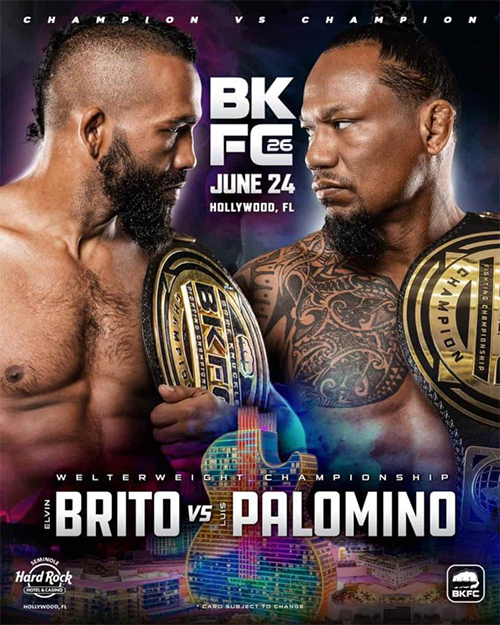 Bare Knuckle Fighting Championship 26: Hollywood is a upcoming bare-knuckle fighting event to be held by Bare Knuckle Fighting Championship on June 24, 2022, at the Seminole Hard Rock Hotel & Casino in Hollywood, Florida, United States.
Fight Card

Main Card
Welterweight 75 kg Puerto Rico Elvin Brito (c) vs. Peru Luis Palomino
Welterweight Championship
Middleweight 79 kg Cuba Uly Diaz vs. United States Francesco Ricchi
Middleweight Championship
W.Flyweight 57 kg Australia Bec Rawlings vs. United States Britain Hart
Featherweight 66 kg United States Howard Davis vs. United States Jimmie Rivera
Welterweight 75 kg North Macedonia Gorjan Slaveski vs. United States Juston Stills
Flyweight 57 kg United States Tyler Randall vs. United States Cary Caprio
Featherweight 66 kg Cuba Freddy Masabo vs. United States Will Shutt
Lightweight 70 kg United States Bryan Duran vs. United States Braeden Tovey
Heavyweight 120 kg United States Stephen Townsel vs. United States Chris Sarro
Background
A BKFC Welterweight Championship bout between the current BKFC welterweight champion Elvin Brito and the current BKFC lightweight champion Luis Palomino served as the event headliner.

The event will feature a rematch in the women's Flyweight division between Bec Rawlings and Britain Hart. The pairing previously met in 2018 prior at BKFC 2, which Rawlings won via split decision. They were previously scheduled to fight May 13 at BKFC Fight Night: Omaha, but the bout was canceled due to Hart having a medical emergency.

Former UFC contender Jimmie Rivera is set to make his BKFC debut against Howard Davis.