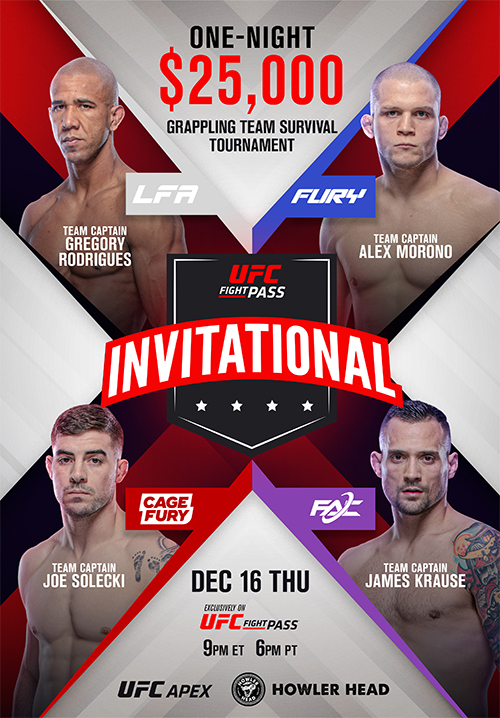 UFC Fight Pass Invitational 1 is a grappling team survival tournament scheduled for December 16, 2021 at UFC APEX in Las Vegas, Nevada, United States.
Fight Card (UFC Fight Pass)
Tournament Bracket
LFA



Gregory Rodrigues
Davi Ramos
Rafael Lovato Jr.
Ary Farias



CFFC



Joe Solecki
Jonathan Piersma
Anton Berzin
Mike Wilcox



Fury FC



Daniel Pineda
Kody Steele
Ricardo Evangelista
Travis Tooke



FAC



James Kraus
Grant Dawson
Jason High
Mikey England

Super Fights
Ben Saunders vs. Benson Henderson
Alexa Yanes vs. Danielle Kelly
Bobby Green vs. Shane Shapiro
Background
Four regional MMA promotions will compete in a team-based grappling competition tonight with a cash prize on the line, as the inaugural UFC Fight Pass Invitational takes place tonight live from the UFC Apex in Las Vegas, Nevada. Current UFC fighters associated with their promotion serve as team captains as a mix of alumni and current fighters compete on each team.

Two men from each team will grapple with the winner staying on the mat to face another member of the other team. In the event of a draw, where no submission is completed after eight minutes, both grapplers are eliminated. If both teams have an equal number of competitors at the end of the round, judges will render a decision for the winner. The winning team is the team with grapplers remaining. The weight limit for each team was 776 total pounds.

Former LFA middleweight champion Gregory Rodrigues captains the LFA team, joined by current UFC lightweight and former Brazilian Jiu-Jitsu world champion Davi Ramos, former Bellator middleweight champion Rafael Lovato Jr., and decorated BJJ competitor Ary Farias. They will face the CFFC team in the semifinal round, headed up by UFC lightweight Joe Solecki. Solecki is joined by four-fight MMA veteran Jonathan Piersma, TUF 19 and Dana White's Contender Series alum and former CFFC light heavyweight champion Anton Berzin, and Bellator vet Mike Wilcox.

On the other side of the bracket, Fury FC takes on FAC. Fury FC is led by UFC featherweight Daniel Pineda, who was originally set to compete in a superfight in this event, but took over the captainship after UFC welterweight and Fury FC commentator Alex Morono was unable to compete. Joining Pineda is dangerous BJJ threat and Fury FC amateur welterweight champion Kody Steele, 2020 IBJJF No-Gi PanAms champion Ricardo Evangelista, and BJJ black belt Travis Tooke. Glory MMA and Fitness coach, UFC welterweight, and FAC part-owner James Krause heads up the Kansas City-based promotion. Joining him are his pupils from his gym: UFC lightweight Grant Dawson, UFC, BKFC, and PFL veteran Jason High, and fast-rising prospect Mikey England.