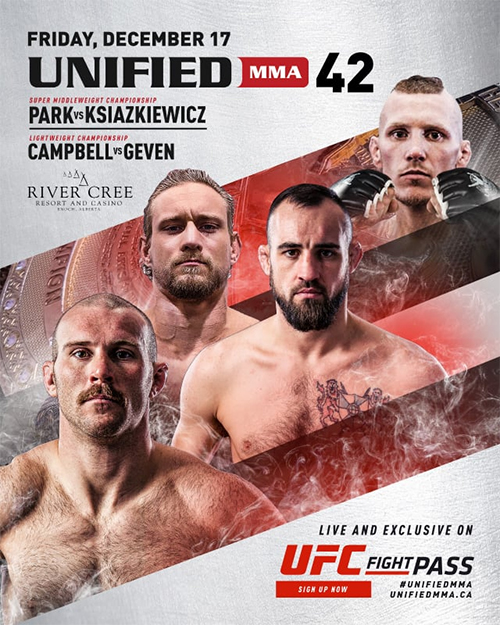 Unified MMA 42: Park vs. Ksiazkiewicz is an upcoming mixed martial arts event scheduled for December 17, 2021 at the River Cree Casino in Enoch, Alberta, Canada.
Fight Card

Main Card (UFC Fight Pass)
Graham Park vs. M. Ksiazkiewicz 195 lbs
Super Middleweight Championship
Shane Campbell vs. Hubert Geven 155 lbs
Lightweight Championship
Jett Grande vs. Andrew Mavridis 170 lbs
Craig Shintani vs. Tom O'Connor 145 lbs
Chris Chapman vs. Cole Campbell 175 lbs
Ali Charkie vs. Cameron MacDonald 175 lbs
Jett Grande vs. Andrew Mavridis 170 lbs
Tyrell Giselbrecht vs. Ramil Kamilov 155 lbs
Simon Marcus vs. Anton Tokarchuk 195 lbs
KB Bhullar vs. Brandt Dewsbery 195 lbs
Amateur Card
Leo Bonin vs. Sean Carroll 150 lbs
Arman Deol vs. Nick Felber 145 lbs
Isaiah Bean vs. Gabriel Brown 125 lbs
Mac Stroud vs. Ian Stoby 170 lbs
Background
Unified MMA's final action-packed event of 2021 goes down Friday at the SOLD-OUT River Cree Resort & Casino, LIVE exclusively on UFC Fight Pass. Featured main event bouts are Mariusz Ksiazkiewicz (8-1) vs. Graham Park (8-2) for the inaugural Super-Middleweight and Shane Campbell (18-8) vs. Hubert Geven (13-3) for the Lightweight title. Former world kickboxing champ Simon Marcus makes #MMA debut vs. former title challenger Anton Tokarchuk! Prospects galore! Much more!