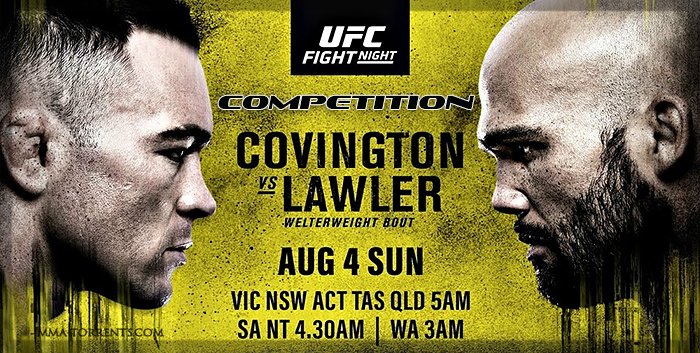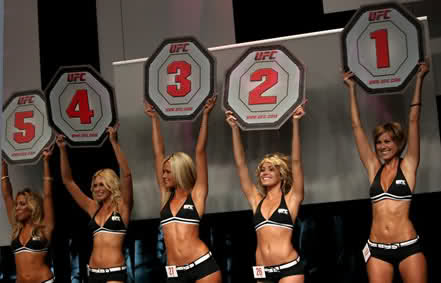 Ladies and gentlemen, it's time to present the results of the UFC 240 - Holloway vs. Edgar competition!
UFC on ESPN 5: Covington vs. Lawler
August 3, 2019
Prudential Center
Newark, New Jersey, United States
Results event SPOILER WARNING:
Results competition:

CONGRATULATIONS to our WINNER who picked 11/12 fights correct getting 11 points!

tluper92
GREAT WORK!!! You all get the UFC belt plus an additional 25 GB's as reward!!!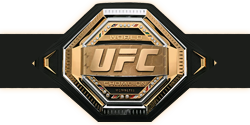 GOOD WORK EVERYONE!!!


# Username Entries Wins Lost % +/-
1 tluper92 12 11 1 92 % + 5.40 GB
2 genveers 12 10 2 83 % + 4.80 GB
3 dibblah 12 9 3 75 % + 4.20 GB
4 cain1753 12 9 3 75 % + 4.20 GB
5 jizac2 12 9 3 75 % + 4.20 GB
6 Burdock 12 9 3 75 % + 4.20 GB
7 slight 12 9 3 75 % + 4.20 GB
8 Conalloh 12 9 3 75 % + 4.20 GB
9 Twon 12 8 4 67 % + 3.60 GB
10 Pelledead 12 8 4 67 % + 3.60 GB
11 treefitty 12 8 4 67 % + 3.60 GB
12 c14cunha 12 8 4 67 % + 3.60 GB
13 ermurenz 12 8 4 67 % + 3.60 GB
14 Kazakhkenny 12 8 4 67 % + 3.60 GB
15 norsu 12 8 4 67 % + 3.60 GB
16 yathe 12 8 4 67 % + 3.60 GB
17 Christba82 12 8 4 67 % + 3.60 GB
18 Asilva 12 8 4 67 % + 3.60 GB
19 shoyorolldb 12 8 4 67 % + 3.60 GB
20 Spike241 12 8 4 67 % + 3.60 GB
21 Shawmoney 12 8 4 67 % + 3.60 GB
22 Aceworth 12 8 4 67 % + 3.60 GB
23 surko 12 8 4 67 % + 3.60 GB
24 le017 12 8 4 67 % + 3.60 GB
25 Gurman2000 12 8 4 67 % + 3.60 GB
26 REDKNAPP 12 8 4 67 % + 3.60 GB
27 CupNoodleMan 12 7 5 58 % + 3.00 GB
28 liro45 12 7 5 58 % + 3.00 GB
29 eutabio 12 7 5 58 % + 3.00 GB
30 Prettosteve 12 7 5 58 % + 3.00 GB
31 MedicRed 12 7 5 58 % + 3.00 GB
32 wexsaf 12 7 5 58 % + 3.00 GB
33 srbshakal007 12 7 5 58 % + 3.00 GB
34 COSMIN1591 12 7 5 58 % + 3.00 GB
35 Krenbiebs 12 7 5 58 % + 3.00 GB
36 lamey 12 7 5 58 % + 3.00 GB
37 jonyv 12 7 5 58 % + 3.00 GB
38 tacco 12 7 5 58 % + 3.00 GB
39 ottodle 12 7 5 58 % + 3.00 GB
40 TurkeySub 12 7 5 58 % + 3.00 GB
41 19Cranes 12 7 5 58 % + 3.00 GB
42 fasoncho 12 7 5 58 % + 3.00 GB
43 jh2288 12 7 5 58 % + 3.00 GB
44 graphene 12 6 6 50 % + 2.40 GB
45 sherlock 12 6 6 50 % + 2.40 GB
46 CN 12 6 6 50 % + 2.40 GB
47 rewpt 12 6 6 50 % + 2.40 GB
48 BlueRain 12 6 6 50 % + 2.40 GB
49 Gericault 12 6 6 50 % + 2.40 GB
50 energyboost 12 6 6 50 % + 2.40 GB
51 becoh 12 6 6 50 % + 2.40 GB
52 calebchew 12 6 6 50 % + 2.40 GB
53 BlindLemon 12 6 6 50 % + 2.40 GB
54 Packerz 12 6 6 50 % + 2.40 GB
55 Boyka 12 6 6 50 % + 2.40 GB
56 hector7611 12 6 6 50 % + 2.40 GB
57 Uchiha95 12 6 6 50 % + 2.40 GB
58 elguapo 12 6 6 50 % + 2.40 GB
59 Sakuraba 12 6 6 50 % + 2.40 GB
60 Ard10 12 6 6 50 % + 2.40 GB
61 redcharade 12 6 6 50 % + 2.40 GB
62 MMA4u 12 6 6 50 % + 2.40 GB
63 PhenomKing 12 6 6 50 % + 2.40 GB
64 DREVM 12 6 6 50 % + 2.40 GB
65 akele15 12 6 6 50 % + 2.40 GB
66 Victor 12 6 6 50 % + 2.40 GB
67 bdiddytampa 12 6 6 50 % + 2.40 GB
68 Filo007 12 6 6 50 % + 2.40 GB
69 lynx 12 6 6 50 % + 2.40 GB
70 stylesclash 12 6 6 50 % + 2.40 GB
71 Icarus 12 6 6 50 % + 2.40 GB
72 Fodaum 12 6 6 50 % + 2.40 GB
73 Nescafe 12 6 6 50 % + 2.40 GB
74 BJJFan1 12 6 6 50 % + 2.40 GB
75 exsmmat 12 6 6 50 % + 2.40 GB
76 gelomeister 8 5 3 63 % + 2.20 GB
77 joaomorenix 10 5 5 50 % + 2.00 GB
78 motafinga 12 5 7 42 % + 1.80 GB
79 PedroJamenez 12 5 7 42 % + 1.80 GB
80 Bane 12 5 7 42 % + 1.80 GB
81 sliphorn 12 5 7 42 % + 1.80 GB
82 wrburg 12 5 7 42 % + 1.80 GB
83 jayjitsu 12 5 7 42 % + 1.80 GB
84 skemer 12 5 7 42 % + 1.80 GB
85 Prexis 12 5 7 42 % + 1.80 GB
86 PenguinP 12 5 7 42 % + 1.80 GB
87 Archiebjj 12 5 7 42 % + 1.80 GB
88 icon78 12 5 7 42 % + 1.80 GB
89 clasonic13 12 5 7 42 % + 1.80 GB
90 james3clarke 12 5 7 42 % + 1.80 GB
91 Ronald85 12 5 7 42 % + 1.80 GB
92 PrinceLuigi 12 5 7 42 % + 1.80 GB
93 saleman 12 5 7 42 % + 1.80 GB
94 sircoco 12 5 7 42 % + 1.80 GB
95 HolioFC 12 5 7 42 % + 1.80 GB
96 Rutherford 12 5 7 42 % + 1.80 GB
97 asebbah 12 5 7 42 % + 1.80 GB
98 jbox124 12 5 7 42 % + 1.80 GB
99 helpish 12 5 7 42 % + 1.80 GB
100 Lew 12 5 7 42 % + 1.80 GB
101 n0name 5 4 1 80 % + 1.90 GB
102 Dkjt 6 4 2 67 % + 1.80 GB
103 TomL 6 4 2 67 % + 1.80 GB
104 Khonda8 7 4 3 57 % + 1.70 GB
105 letsroll 12 4 8 33 % + 1.20 GB
106 shingo88 12 4 8 33 % + 1.20 GB
107 giank15 12 4 8 33 % + 1.20 GB
108 brutkd 12 4 8 33 % + 1.20 GB
109 Presto1965 12 4 8 33 % + 1.20 GB
110 mitch71h 12 4 8 33 % + 1.20 GB
111 Tringelt 4 3 1 75 % + 1.40 GB
112 DaveDave211 4 3 1 75 % + 1.40 GB
113 bigdog73 8 3 5 38 % + 1.00 GB
114 chernobylcit 3 3 0 100 % + 1.50 GB
115 nialleth 3 2 1 67 % + 921.60 MB
116 Gluze 4 2 2 50 % + 819.20 MB
117 bart300000 4 2 2 50 % + 819.20 MB
118 limitedeggs 4 2 2 50 % + 819.20 MB
119 Andybdr 5 2 3 40 % + 716.80 MB
120 missuss 6 2 4 33 % + 614.40 MB
121 bdm195 2 1 1 50 % + 409.60 MB
122 jitsuka 2 1 1 50 % + 409.60 MB
123 StereoAlex 3 1 2 33 % + 307.20 MB
124 euklides 1 1 0 100 % + 512.00 MB
125 krntorrents 1 1 0 100 % + 512.00 MB
126 Darkcast 1 1 0 100 % + 512.00 MB
127 Rjelly 1 1 0 100 % + 512.00 MB
128 dadik 2 0 2 0 % - 204.80 MB
129 Avioria 2 0 2 0 % - 204.80 MB

LINKS
Competitions page
Rules