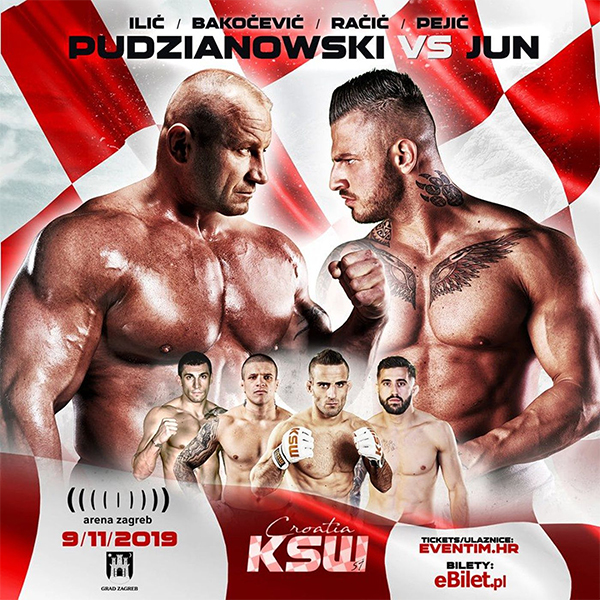 KSW 51: Pudzianowski vs. Jun is a mixed martial arts event to take place on November 9, 2019 at the Arena Zagreb in Zagreb, Croatia.
Fight Card

Main Card (FITE)
Mariusz Pudzianowski vs. Erko Jun 265 lbs
Borys Mańkowski vs. Vaso Bakočević 161 lbs
Cezary Kęsik vs. Aleksandar Ilić 185 lbs
Damian Stasiak vs. Antun Račić 135 lbs
Bantamweight Championship Title
Darwin Rodriguez vs. Ivan Erslan 205 lbs
Roman Szymański vs. Miloš Janičić 155 lbs
Denis Stojnić vs. Ante Delija 265 lbs
Daniel Torres vs. Filip Pejić 145 lbs
Preliminary Card
Sebastian Przybysz vs. Lemmy Krušič 135 lbs
Krystian Kaszubowski vs. Aleksandar Rakas 170 lbs
Background
KSW 51 will crown the organization's inaugural bantamweight champion, as Croatia's Antun Racic takes on Polish UFC veteran Damian Stasiak. Plus, the night's main event features a heavyweight clash between Poland's five-time World's Strongest Man, Mariusz Pudzianowski (12-7), and Bosnian bodybuilding star Erko Jun (3-0). The event is also known as: Balkans vs. The Rest of the World.