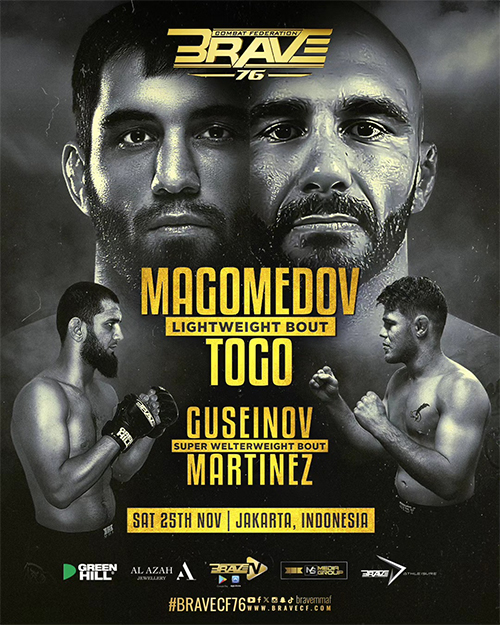 BRAVE CF 76: Magomedov vs. Togo will be a mixed martial arts event held by Brave Combat Federation on November 25, 2023 at the Balai Sarbini in Jakarta, Indonesia.
Fight Card

Main Card
Lightweight 70 kg Russia Kamil Magomedov vs. Australia Josh Togo
Super Welterweight 79.5 kg Bahrain Murad Guseinov vs. Australia David Martinez
Lightweight 70 kg Indonesia John Manahan vs. Philippines Windri Patilima
Bantamweight 61 kg Indonesia Fajar vs. Philippines Kenneth Maningat
Flyweight 57 kg Philippines Ruel Panales vs. China Mao Jianbing
Heavyweight 120 kg Indonesia Vincent Majid vs. Mongolia Ganbayar Tumurkhuyag
Preliminary Card
Bantamweight 61 kg Indonesia Jefri Arianto vs. Iran Mojtaba Nasiri
Bantamweight 61 kg Indonesia Randi Febian vs. Indonesia Dewantoro
Featherweight 66 kg Indonesia Rizal Zulmi vs. Thailand Weerasak Phromsakha
Bantamweight 61 kg Indonesia Anugrah Simamora vs. Malaysia Alexander Lew
Bantamweight 61 kg Indonesia Ari Fadhillah vs. Malaysia Murugan Silvarajoo
Background
A lightweight bout between Kamil Magomedov and current UAE Warriors Welterweight champion Josh Togo is scheduled as the event headliner.

BRAVE Combat Federation will return to Indonesia later this year as BRAVE CF 76 will take place in Jakarta, on November 25.

Following on from the success of BRAVE CF 12 and BRAVE CF 66, the most global MMA organization in the world is heading back for a third show, the second in Jakarta. This will mark the fourth event overall to have taken place in the Southeast Asia region, highlighting the continued growth of MMA in the region and BRAVE CF's key role in that development.

The card will take place in Balai Sarbini, a tremendous venue that was first opened in 1973 before a remarkable renovation project was completed in 2004. It was the site of BRAVE CF's first-ever trip to Indonesia, in which future Super Lightweight champion Eldar Eldarov beat Brian Hooi in the main event.

Last year, BRAVE CF 66 took place in Bali and was headlined by a viral moment as Chad Hanekom landed an elbow KO on In Jae La, winning KO of the Year honors at the BRAVE CF End of Year Awards. Other notable names to have fought in BRAVE CF's previous Indonesian events include Hamza Kooheji, former world champion Jarrah Al-Silawi, one-time title challengers Nkosi Ndebele, Gamzat Magomedov and Leonardo Mafra and striking specialist Junior Tafa.

BRAVE CF 76 takes place a week after BRAVE CF 75, which marks the organization's first trip to Spain. BRAVE CF has also recently announced its returns to Brazil and Bahrain in what will be a very busy end of 2023, an already historic year for the fastest-growing MMA promotion in the world - recently, BRAVE CF broke the world record having been hosted in 29 countries (Spain set to become the 30th nation to host BRAVE CF).