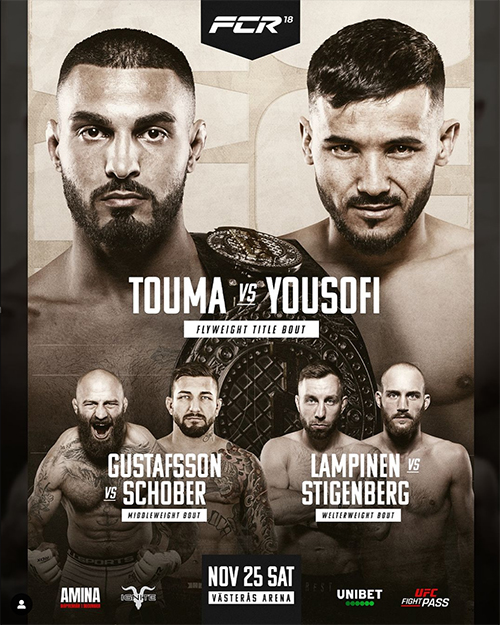 FCR 18: Touma vs. Yousefi is a mixed martial arts event promoted by Fight Club Rush and will take place on November 25, 2023 at the Västerås Arena in Stockholm, Sweden, European Union.
Fight Card

Main Card (UFC Fight Pass)
Jonny Touma vs. Rohullah Yousofi 125 lbs
Flyweight Championship
Andreas Berg Gustafsson vs. Dominic Schober 185 lbs
Toni Lampinen vs. Christian Stigenberg 170 lbs
Hecher Sosa vs. Aaron Robinson 135 lbs
Ebrima Faal vs. Brayan Aspegren 185 lbs
Raymond Johansson vs. Joona Hannula 145 lbs
Safiullah Husseini vs. Abdulaziz Husein 140 lbs
Tuomas Grönvall vs. Luiz Silva 135 lbs
Wasi Adeshina vs. Henrique Madureira 145 lbs
Simon Ekbäck vs. Okan Yildiz 155 lbs
Abdulrahman Amaev vs. Houssein Khodr 170 lbs
Background
Top Swedish flyweights Jonny Touma (5-2) and Renato Vidovic (4-1) were set to duke it out for the vacant flyweight title at Fight Club Rush 17 last month. However Vidovic missed weight and was later not cleared to compete for the title.

Touma was awarded the title via walk over and his first title defense will now be against Vidovic at FCR 18 on November 25th, per FCR officials.

As two of the most highly credentialled flyweights not just in Sweden, but in all of Scandinavia.

Touma is a former Swedish MMA champion as well as a 2018 European bronze medalist. Thus far he holds a 3-1 record in FCR with wins over Ilaz Zabelaj, Zoran Milic and Safi Husseini.

Vidovic holds a 2019 TKO win over Eli Elias at FCR 5 and has since stayed perfect, scoring victories over FCR alumns like Jakob Valegren and Rohulla Yousofi.

While Touma was crowned champion under unfortunate circumstances his first title defense against Vidovic is sure to be a bout for the ages.