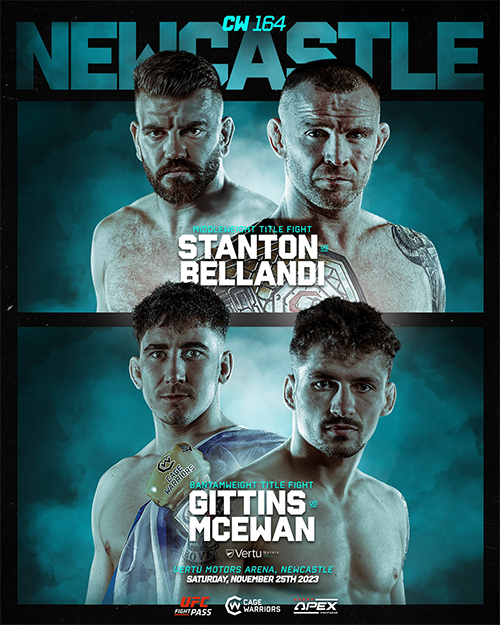 Cage Warriors 164: Stanton vs. Bellandi (also known as Cage Warriors 164: Newcastle) is a mixed martial arts event to take place on November 25, 2023 at the Indigo At the Vertu Motors Arena in Newcastle, England, United Kingdom.
Fight Card

Main Card (UFC Fight Pass)
Mick Stanton vs. Dario Bellandi 185 lbs
Middleweight Championship
Liam Gittins vs. Reece McEwan 135 lbs
Vacant Bantamweight Championship
Andy Clamp vs. Matthew Byfield 205 lbs
Light Heavyweight Championship
Perry Andre Goodwin vs. Chris Bungard 155 lbs
Josh Abraham vs. Aaron Johnson 155 lbs
Bailey Gilbert vs. Decky McAleenan 145 lbs
Chris Douglass vs. N. Kanišauskas 185 lbs
Jack Eglin vs. Enrico Di Gangi 135 lbs
Aidan Stephen vs. Daan Duijs 135 lbs
Bailey Gilbert vs. Orlando Prins 145 lbs
Leon Armes vs. Anthony Laurent 145 lbs
Michael Blair vs. Guido Possidente 155 lbs
Reza Arianto vs. Julien Pierre Lopez 145 lbs
Cornellius RJ Aritonang vs. Matthieu Moya 145 lbs
Dylan Hazan vs. Amir Malekpour 125 lbs
Michael Tchamou vs. Carlos Graca 180 lbs
Sergio Gavinelli vs. David Karp 170 lbs
Darren Stewart vs. Antonio Zovak 205 lbs
Background
The event will be CW's first in the city since 2014. Three titles are on the line on this exciting night of fights!

Defending champion Stanton (12-7) is currently enjoying a career renaissance, going unbeaten in his last six bouts at middleweight.

He captured gold in a highly entertaining five-round mat war against top prospect Will Currie in March, before defending his title against old rival James Webb in a knock-down, drag-out brawl in July.

Rendoki Dojo's Belandi (6-1) is currently riding a four fight winning-streak in the division, including three finishes.

The ground specialist has stoppage wins over Joan Arastey, Justin Barry and Daniel Karlsson in the famous yellow gloves, and most recently out-pointed fellow contender Naglis Kanišauskas in July.

"We're returning to Newcastle for the first time in nine years, and we're bringing some huge fights with us!" said CW President Graham Boylan.

"The champion Mick Stanton is currently turning in some of the best performances of his career and a genuine threat wherever the fight goes."

"He's going up against one of the toughest and most talented up-and-comers on the roster in Dario Bellandi."

"We're going to see a real battle of youth versus experience on November 25th!"

Also added to the CW 164 card today are a pair of thrilling bantamweight bouts pitting Jack Eglin against Enrico di Gangi and Aidan Stephen making his 135lb opposite Daan Duijs.