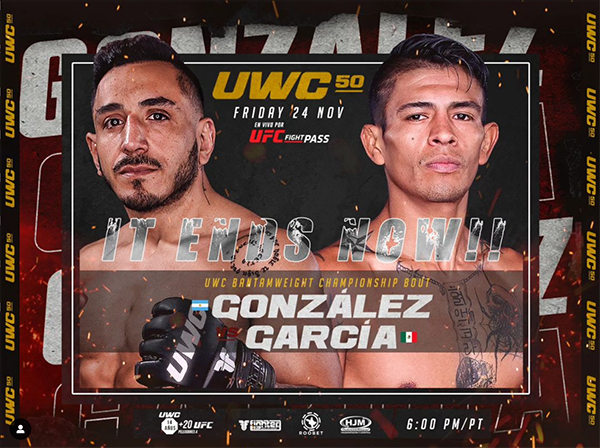 UWC 50: González vs. García is a mixed martial arts event promoted by Ultimate Warrior Challenge Mexico and will take place on November 24, 2023 at the Entram Gym in Tijuana, Baja California, Mexico.
Fight Card

Main Card (UFC Fight Pass)
Juan Pablo González vs. Mahatma García 135 lbs
Bantamweight Championship
Alan Villalba vs. Román Córdova 150 lbs
Wallison Silva vs. Jesus Alberto Rangel 170 lbs
Alan Martinez vs. Inor Valladares 125 lbs
Esteban Sedano vs. Enrique Ortega 145 lbs
Karla Pastrana vs. Odeth Realyvásquez 120 lbs
Background
The closing of the 2023 campaign of the Ultimate Warrior Challenge Mexico (UWC) company will be on the famous "Black Friday", on Friday, November 24 at the Entram Gym facilities, in Tijuana, Baja California.

The show, which ends the 14th year of activity in
professional Mixed Martial Arts (AMM), will feature seven fights, one of them for a championship, to be broadcast through UFC Fight Pass.

"It has definitely been a very exciting year, things have happened that
have never happened before, such as the case of our first double champion in Antonio Gordillo, and we are going to close with power.

"We are going to have fighters who have not been with us before, and some
who are the fans' favorites are returning, plus we will have a women's fight, since they ask us for that a lot," said Alejandro Islas.

The president of UWC indicated that for technical reasons the venue will once again be
Entram Gym, and the function will be sanctioned by the Tijuana Boxing and MMA Commission, as has happened all year.

"Entram Gym has been our main home since the beginning of the pandemic, and although
we have had functions in the old Jai Alai Palace and the Fausto Gutiérrez Moreno Auditorium, our 50th event will be there.

"Our goal is always the same: to present the highest
quality fight program to our audience, and we know that that will be on Friday, November 24 so that they can enjoy a great show," he added.