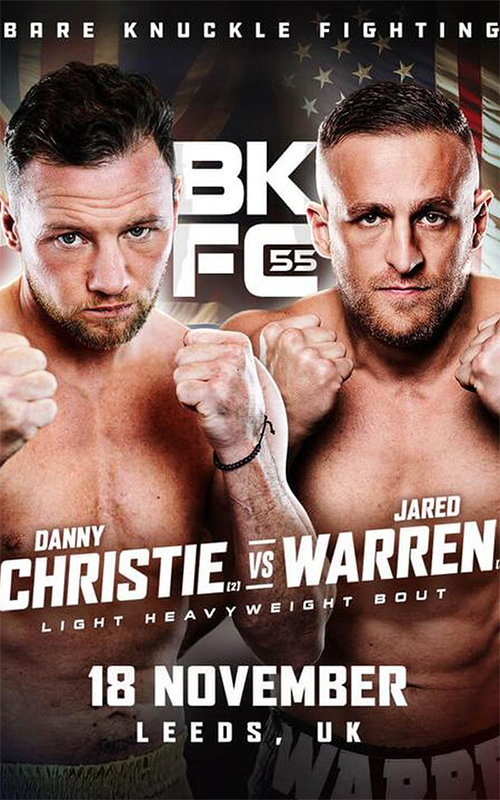 Bare Knuckle Fighting Championship 55: Christie vs. Warren (also known as BKFC 55: Leeds) is an upcoming bare-knuckle fighting event held by Bare Knuckle Fighting Championship on November 18, 2023, at the Planet Ice Leeds in Leeds, England, United Kingdom.
Fight Card

Main Card
Light heavyweight 84 kg United Kingdom Danny Christie vs. United States Jared Warren
Middleweight 79 kg United Kingdom Anthony Holmes vs. Poland Bartlomiej Krol
Cruiserweight 93 kg United Kingdom Mason Shaw vs. United Kingdom Matty Hodgson
Light heavyweight 84 kg United Kingdom Danny Mitchell vs. United Kingdom John Ferguson
Cruiserweight 93 kg United Kingdom Luke Atkin vs. United Kingdom Darren Hendry
Featherweight 66 kg United Kingdom Gary Fox vs. United Kingdom Robbie Brown
Light heavyweight 84 kg United Kingdom Nathan Owens vs. United Kingdom Conor Cooke
Cruiserweight 93 kg United Kingdom Karl Thompson vs. Poland Dawid Oskar
Lightweight 70 kg Italy Antonio Moscatiello vs. Czech Republic Hynek Hospodarsky
Preliminary Card
Welterweight 75 kg United Kingdom Luke Nevin vs. United Kingdom Paul Cook
Welterweight 75 kg United Kingdom Jonny Graham vs. United Kingdom Abel Radomski
Heavyweight 120 kg United Kingdom Agi Faulkner vs. United Kingdom Rob Cunningham
Background
Major title implications are at stake on Saturday when unbeaten BKFC UK Light-Heavyweight Champion Danny Christie (3-0) battles top American contender Jared "Captain Deadpool" Warren (5-2, 1 NC) in the Main Event of BKFC 55 on Saturday in Leeds, UK.

Saturday's BKFC 55 Main Event sees the unbeaten United Kingdom contender Danny Christie try to improve to 4-0 in the Squared Circle with a fourth straight KO against United States fan-favorite Jared Warren (5-2, 1 NC). Serious title implications are on the line in this intercontinental battle between Christie, the No. 2 contender in the BKFC light-heavyweight division, and Warren, the No. 4 contender in the weight class.

In the Co-Main Event, former BKFC UK title challenger Anthony Holmes looks to improve to 5-1-1 in bare knuckle action against Bart Król (2-0, 1 KO) in their highly anticipated middleweight showdown. Saturday's can't-miss event features three of the sport's top cruiserweight prospects – Dawid Oskar (3-0), Darren Hendry (4-1) and Mason Shaw (6-4-1) – and a full slate of BKFC UK's most exciting and hardest-hitting fighters.