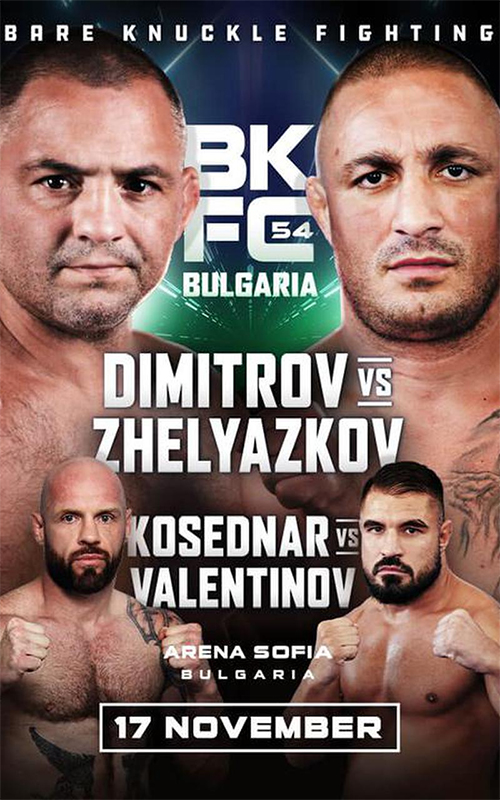 Bare Knuckle Fighting Championship 54: Dimitrov vs. Zhelyazkov (also known as BKFC 54: Bulgaria) is an upcoming bare-knuckle fighting event held by Bare Knuckle Fighting Championship on November 17, 2023, at the Arena Sofia in Sofia, Bulgaria, European Union.
Fight Card

Main Card
Middleweight 79 kg Bulgaria Rosen Dimitrov vs. Bulgaria Todor Zhelyakov
Middleweight 79 kg Slovenia Bojan Kosendar vs. Bulgaria Georgi Valentinov
Lightweight 70 kg Russia Ilyas Sadykov vs. Bulgaria Vladislav Kanchev
Middleweight 79 kg Lebanon Amer Abdulnabi vs. Bulgaria Kaloyan Kolev
Middleweight 79 kg Poland Jedrzej Durski vs. Bulgaria Marian Dimitrov
Featherweight 66 kg Romania Florin Lupu vs. Egypt Mahmoud Mando
Cruiserweight 93 kg Italy Marco Giustarini vs. Bulgaria Veselin Ivanov
Heavyweight 120 kg Turkey Ynus Batan vs. Bulgaria Mladen Iliev
Middleweight 79 kg Turkey Mehmet Ozer vs. France Steve Pasche
Preliminary Card
Lightweight 70 kg Bulgaria Nikola Arsov vs. Bulgaria Angel Petkov
Lightweight 70 kg Brazil Felipe da Silva Maia vs. Bulgaria Martin Stoichkov
Featherweight 66 kg Slovakia Tomas Vojtela vs. Bulgaria Zdravko Dimitrov
Background
Clear your calendar because it's a super-sized international Bare Knuckle Fighting Championship Fight Week – this weekend the world's fastest growing combat sports promotion hosts back-to-back, action-packed events across the pond in the Squared Circle.

On Friday, BKFC makes its highly anticipated debut in Bulgaria with BKFC 54 at Arena Sofia in Sofia, Bulgaria. On Saturday, the Squared Circle returns to Leeds, United Kingdom with the fully loaded BKFC 55 at Planet Ice Leeds.

Friday's BKFC 54 from Bulgaria features a full slate of the region's top prospects hungry to make a statement on the biggest platform in bare knuckle fighting. Bulgarian MMA legends Rosen Dimitrov and Georgi Valentinov drop their gloves for the first time in the Main Event and Co-Main Event, respectively. Dimitrov's MMA record is an immaculate 35-5, and he's been victorious in his last 13 fights. He's hunting for the 13th KO of his fighting career against fierce challenger Todor Zhelyazkov in their middleweight matchup. Valentinov is 22-6 as a professional MMA fighter. He's looking for the sixth KO of his career against Bojan Kosendar, also in middleweight action.

Saturday's BKFC 55 Main Event sees the unbeaten United Kingdom contender Danny Christie try to improve to 4-0 in the Squared Circle with a fourth straight KO against United States fan-favorite Jared Warren (5-2, 1 NC). Serious title implications are on the line in this intercontinental battle between Christie, the No. 2 contender in the BKFC light-heavyweight division, and Warren, the No. 4 contender in the weight class. In the Co-Main Event, former BKFC UK title challenger Anthony Holmes looks to improve to 5-1-1 in bare knuckle action against Bart Król (2-0, 1 KO) in their highly anticipated middleweight showdown. Saturday's can't-miss event features three of the sport's top cruiserweight prospects – Dawid Oskar (3-0), Darren Hendry (4-1) and Mason Shaw (6-4-1) – and a full slate of BKFC UK's most exciting and hardest-hitting fighters.