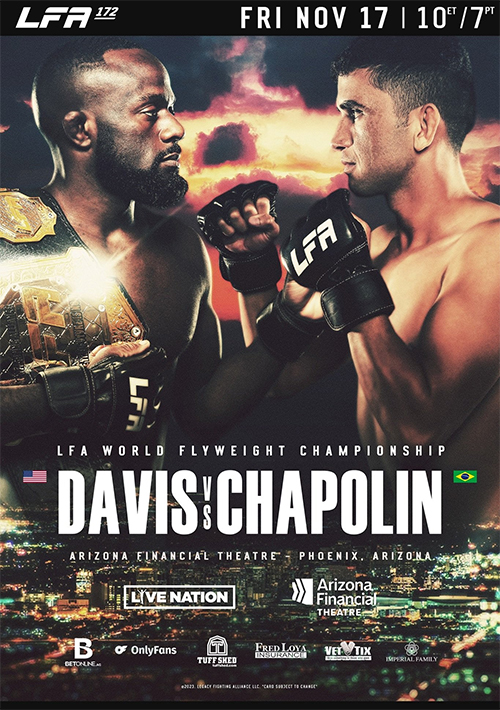 LFA 172: Davis vs. Chapolin is a mixed martial arts event promoted by Legacy Fighting Alliance and will take place on November 17, 2023 at the Arizona Financial Theatre in Phoenix, Arizona, United States.
Fight Card

Main Card (UFC Fight Pass)
Flyweight Cody Davis (c) vs. Eduardo Chapolin
Flyweight Championship
Featherweight Ivan Tena vs. Lerryan Douglas
Lightweight Juliano Prescendo vs. Nikita Kulshin
Lightweight Cedric Katambwa vs. Bret Cooper
Middleweight Eric Fimbres vs. Lydell Poag
Welterweight Mirafzal Akhtamov vs. Keyth Dawson
Preliminary Card
Women's Strawweight Leslie Hernandez vs. Cristina Brador
Flyweight Lívio Ribeiro vs. Chas Dunhour
Women's Strawweight Grace DiFrancesco vs. Jasmine Pouncy
Amateur Card
Lightweight James Deitz vs. Jorge Lecuanda
Women's Catchweight (130 lbs) Jenna Williams vs. Alex Apodaca
Heavyweight Leon Mackey Jr. vs. Tyler Gates
Background
LFA will return to the "Valley of the Sun" in November with a flyweight title fight at LFA 172. This will be the thirteenth LFA event to take place in the state of Arizona. Eleven of these events have taken place at Arizona Financial Theatre in the state's capital city of Phoenix.

LFA 172: Davis vs. Chapolin takes place Friday, November 17th at Arizona Financial Theatre in Phoenix, Arizona. The main event will feature a flyweight title fight when champion Cody Davis defends his title against top contender Eduardo Chapolin.

"We are excited to bring the Flyweight Championship to Arizona at LFA 172," stated LFA CEO Ed Soares. "The main event will feature the first title defense of the LFA flyweight champion Cody Davis. He will face top ranked prospect and fellow LFA standout Eduardo Chapolin. Our fanbase in the Southwest has been amazing and we look forward to bringing a third world-class event to Arizona this year."

Davis (8-1) returns to the LFA Octagon for a third time in 2023 looking for a third win, but this time he will arrive looking to defend his championship belt for the first time. After signing with the LFA in 2022, the 29-year-old has won fights in Chicagoland, New York, and twice in his native Los Angeles. After building his name and fanbase in the country's three biggest media markets, Davis now looks to defend his world title in the state capital of Arizona. If successful, he will join Charles Johnson as the only LFA flyweight champion to successfully defend his title. The main reason for this is the fact that nine of the ten LFA flyweight champions before Davis were signed by the UFC. Only Johnson was able to defend his title before signing with the industry leader and Davis now hopes a fifth win in the LFA and first LFA title defense will impress the UFC brass.

Chapolin (11-2) grew up in Buritama, São Paulo, Brazil. This is just across the Tietê River from Birigui in the northwest area of the state of São Paulo. Birigui is the hometown of UFC star and LFA great Tabatha "Baby Shark" Ricci, who is Chapolin's longtime friend and training partner. After making his LFA debut in Brazil in the summer of 2022, Chapolin moved to the United States to rejoin Ricci stateside, where they now train together in Ventura, California. This led to his American-soil debut in August, where he defeated fellow Brazilian fighter Leandro Soares at LFA 165. The 27-year-old is a veteran of nearly 70 kickboxing fights and won kickboxing titles in Brazil and Japan, but impressed the American fan base by dominating the BJJ black belt both standing and on the ground. He now looks to become the third flyweight champion from Brazil in LFA history.