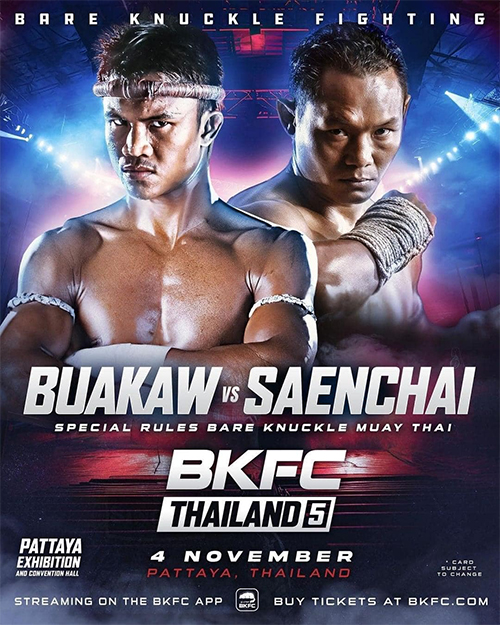 BKFC Thailand 5: Buakaw vs. Saenchai (also known as BKFC Thailand 5: Legends of Siam) is an upcoming bare-knuckle fighting event held by Bare Knuckle Fighting Championship on November 4, 2023, at the Pattaya Exhibition and Convention Hall in Pattaya, Chonburi, Thailand.
Fight Card

Main Card
Lightweight 70 kg Thailand Buakaw Banchamek vs. Thailand Saenchai
Special Thai Rules
Strawweight 52 kg Greece Fani Peloumpi (c) vs. Thailand Po Denman
Women's Strawweight Championship
Lightweight 70 kg England Teejay Chang vs. Germany Kristof Kirsch
Featherweight 66 kg Thailand Krisana Srisang vs. Thailand Sarun Srioumboo
Vacant Featherweight Championship
Cruiserweight 93 kg Sweden Tofan Pirani vs. Germany Daniel Dorrer
Featherweight 66 kg Scotland Andrew Miller vs. Thailand Teerawat Wongon
Featherweight 66 kg Philippines Joemil Miado vs. Sweden Gustaf Cedermalm
Light Heavyweight 84 kg Canada Jonny Tello vs. Thailand Chaloemporn Sawatsuk
Cruiserweight 93 kg Iran Purya Rokhneh vs. France Yohann Marin
Preliminary Card
Featherweight 66 kg Thailand Pongpisan Chunyong vs. Myanmar Tha Pyay Nyo
Middleweight 79 kg Russia Mike Vetrila vs. Philippines Allen Wycoco
Lightweight 70 kg Thailand Maseng Sornchai vs. Thailand Tumba
Background
Combat sports fans around the world have their alarms set for early Saturday morning to watch BKFC Thailand 5, LIVE on The BKFC App from Pattaya Exhibition and Convention Hall.

Saturday's Main Event features two of the greatest kickboxers of all time, Buakaw and Saenchai, in a first-of-its-kind special rules bare knuckle Thai fight.

Widely regarded as the Michael Jordan of Muay Thai kickboxing, Buakaw is a two-time K-1 World Kickboxing Champion with an eye-popping professional record of 240-24-14 with 70 knockouts and multiple national championships on his resume. Saenchai, meanwhile, is a six-time national champion at the famed Lumpinee Stadium in his native Thailand, the mecca of competitive kickboxing. The former World Muaythai Council champion's record includes over 300 victories as a professional.

In Saturday's Co-Main Event, Fani "Warrior Princess" Peloumpi defends her BKFC Thailand Strawweight Championship for the first time against Chisakan "Po Denman" Ariphipat. Both fighters are coming off impressive wins in their BKFC debut, and both boast impressive combat sports resumes outside of BKFC – Peloumpi is the proud owner of over 60 victories as a professional kickboxer and Ariphipat boasts a pro gloved boxing record of 17-1-1 (6 KOs).

Saturday's event features a must-see showdown between Thai lightweight prospects Krisana Sirsang and Sarun Srioumboo, who are both trying to climb to 3-0, and a full slate of some of Asia's most exciting BKFC prospects.

It is expected to be headlined by Muay Thai icons Buakaw Banchamek vs. Saenchai, who were originally scheduled to face each other in March 2023.