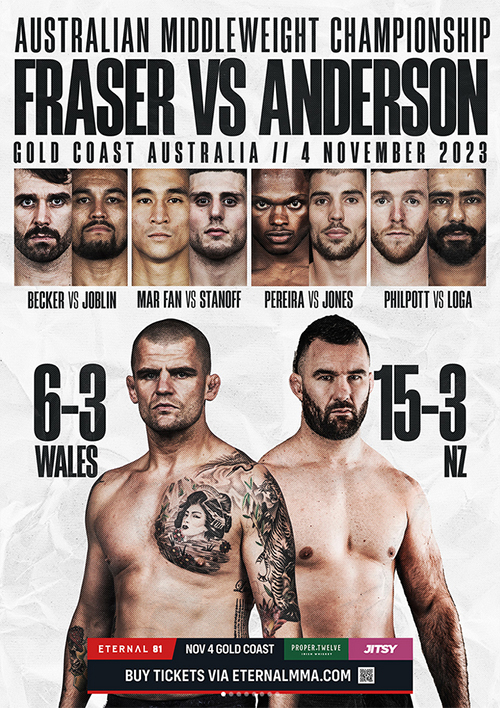 Eternal MMA 81: Fraser vs. Anderson is a mixed martial arts event promoted by Eternal MMA and will take place on November 4, 2023 at the Southport Sharks Arena in Gold Coast, Queensland, Australia.
Fight Card

Main Card (UFC Fight Pass)
John Martin Fraser vs. Brogan Anderson 185 lbs
Middleweight Championship
Diego Pereira vs. Luke Jones 145 lbs
Mizuho Matsuyama vs. Daniel Mitchell 135 lbs
Alan Philpott vs. Paul Loga 135 lbs
Coby Porter vs. Luke Dally 161 lbs
Tasar Malone vs. Mayson Nobetsu 150 lbs
Corey Lynch vs. Viktor Lyall 170 lbs
Jack Becker vs. Kieran Joblin 155 lbs
Dom Mar Fan vs. Michael Stanoff 155 lbs
Preliminary Card
Gordon Reale vs. Dallas Denniss 125 lbs
Chloe Henry vs. Kim Tran 125 lbs
Ran Deng vs. Leon Gray 155 lbs
Ethan Mitchell vs. Nikita Laptsevich 145 lbs
Justin Woods vs. Connor Downey 170 lbs
Background
The Eternal MW title is on the line! Due to an injury that forced the reigning Eternal champion, Mat Myers, to undergo surgery and take some time off, Myers performed the honorable act of relinquishing his belt. This gesture allowed the former Eternal MW champion, John Fraser, to step in and face the formidable MW contender from NZ, Brogan Anderson at Eternal 81.

Fraser, with a record of 6-3, is a force to be reckoned with, having secured 5 wins by KO and TKO. He once held the belt but lost it to Mat Myers. Now, he has the opportunity to win it back and potentially set up a trilogy fight against Myers. Determined to make a statement and remind fans of his championship caliber, Fraser must face Brogan Anderson.

NZ's Brogan Anderson boasts an impressive record of 15-3 and is currently riding a 6-fight win streak. A powerhouse in his own right, this MW fighter has won 9 of his fights via submission. He enters the Eternal arena with the goal of leaving his mark on Eternal history and being the one to welcome back former champ Mat Myers in 2024.

Jack Becker & Kieran Joblin will meet in a lightweight clash at Eternal 81. Despite his loss to David Martinez in Sydney, Becker's story is triumphant as he returned to the competition scene after a long and grueling recovery process from an injury. Becker is set for his second fight in 2023 against New Zealand's Kieran Joblin. Becker's style of submission grappling & forward-pressure striking will test The Stonecutter's durability. Joblin with a record of 24-14, the veteran of the sport brings a wealth of experience to the fight will challenge Becker's toughness.

With the LW title being contested in Perth later in the month between champ Quillan Salkilld and USA's Brett Pastore, and David Martinez unavailable due to injury, the outcome of the Becker and Joblin fight makes the LW division intriguing.