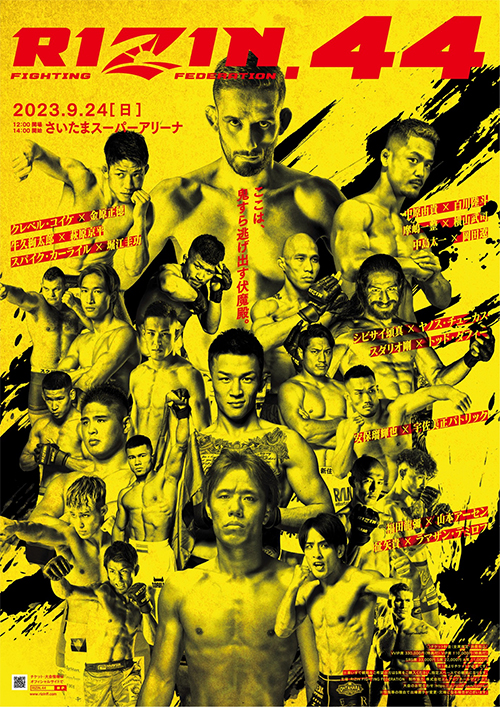 Rizin 44: Koike vs. Kanehara will be a Combat sport event held by Rizin Fighting Federation on September 24, 2023 at the Saitama Super Arena in Tokyo, Japan.
Fight Card

Main Card
Featherweight 66 kg Brazil Kleber Koike Erbst vs. Japan Masanori Kanehara
Featherweight 66 kg Japan Juntaro Ushiku vs. Japan Kyohei Hagiwara
Lightweight 71 kg United States Spike Carlyle vs. Japan Yoshinori Horie
Heavyweight 120 kg Japan Tsuyoshi Sudario vs. United States Todd Duffee
Preliminary Card
Catchweight 70 kg Japan Rukiya Anpo vs. Japan Sho Patrick Usami
Kickboxing
Featherweight 66 kg Japan Yoshiki Nakahara vs. Japan Rikuto Shirakawa
Featherweight 66 kg Japan Kazumasa Majima vs. Japan Takeji Yokoyama
Flyweight 57 kg Japan Ryuya Fukuda vs. Japan Erson Yamamoto
Heavyweight 120 kg Japan Shoma Shibisai vs. Romania Janos Csukas
Flyweight 57 kg Japan Takaki Soya vs. Uzbekistan Ramazan Temirov
Bantamweight 61 kg Japan Taichi Nakajima vs. Japan Ryo Okada
Background
Former RIZIN featherweight champion Kleber Koike will get another chance at 145 pounds when he returns to the ring on Sept. 24 opposite Masanori Kanehara. Koike was the featherweight champion but lost his title on the scale in June, missing weight for his title bout with Chihiro Suzuki.

Koike (31-6-1, 1 no contest) made short work of Suzuki with a first-round submission victory, but the official result stands as no-contest since he had missed weight the day before.

Kanehara, 30-14-5 in MMA and a veteran of the UFC, Sengou and many other Japanese promotions, looks for his fourth straight victory under the company banner at RIZIN 44, going 5-1 since parting ways with the UFC in 2016.

The Japanese promotion announced seven other match-ups for RIZIN 44, including the debut of UFC veteran and former KSW heavyweight contender Toidd Duffee.

Duffee (9-4, 1 no contest) recently returned to the sport after more than three years to challenge Phil De Fries at KSW, losing via first-round stoppage. He faces Tsuyoshi Sudario in his first match in Japan since 2010, battling a former sumo wrestler who holds a 7-2 record in MMA.