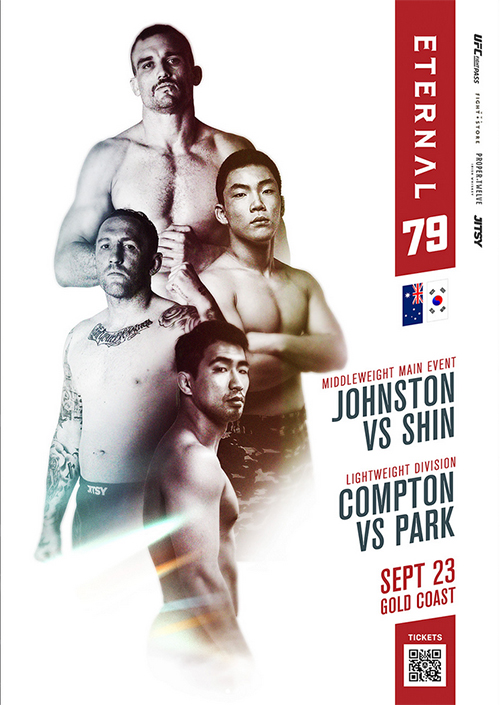 Eternal MMA 79: Johnston vs. Shin is a mixed martial arts event promoted by Eternal MMA and will take place on September 23, 2023 at the Southport Sharks in Gold Coast, Queensland, Australia.
Fight Card

Main Card (UFC Fight Pass)
Ben Johnston vs. Yoon Seo Shin 185 lbs
Elliot Compton vs. Chan Soo Park 155 lbs
Coby Porter vs. Jordan Thomas 155 lbs
Brogan Stewart-Ng vs. George Mangos 145 lbs
Sam Dobb vs. Alfred Stoddart 185 lbs
Dom Mar Fan vs. James O'Brien 155 lbs
Jayden Binnie vs. Brody Ede 155 lbs
Preliminary Card
Quinn Kelly vs. Bayden Toogood 170 lbs
Joel Johnston vs. Jayden Vea Vea 185 lbs
Tula McCulloch vs. Kourosh Arvan 162 lbs
Harrison Tew vs. Jesse Wynne 135 lbs
Chloe Henry vs. Renee Hanley 125 lbs
Matt Fordham vs. James Wong 170 lbs
Jesse Murray vs. Nikita Laptsevich 145 lbs
Dominic Aston vs. Alexander Ponoris 150 lbs
Background
The main event sees former WBC World Champion Ben Johnston look to extend his current 2 fight win streak and cement his status as one of the regions most dangerous middleweights against an international opponent.

Coming off an impressive second round submission win on Road FC, Yoon Seo Shin (2-2) travels to Australia confident in stopping the hometown favourite.

The co-main event sees former international Thai boxing champion and ONE Championship Super Series top five fighter, Elliot "The Dragon" Compton make his Eternal MMA debut against a top international prospect from Black Combat in South Korea.

Chan Soo Park (6-3) finished his previously unbeaten opponent in his last fight with an impressive third round TKO, thinks his power and output will be too much for the Australian lightweight.