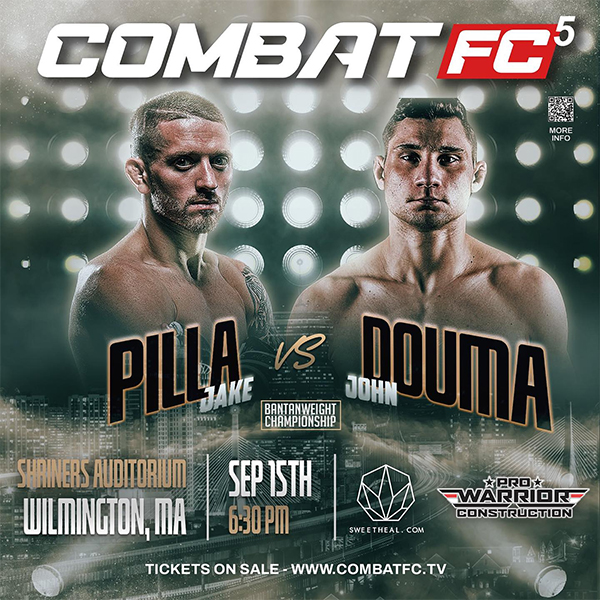 Combat FC 5: Nakanelua vs. Echeverria is a mixed martial arts event promoted by Combat FC and will take place on September 15, 2023 at the The Shriners Auditorium in Wilmington, Massachusetts, United States.
Fight Card

Main Card (UFC Fight Pass)
Jake Pilla vs. John Douma 135 lbs
Vacant Bantamweight Championship
Randy Costa vs. Johnny Campbell 140 lbs
Yann Oliveira vs. Derik de Freitas 170 lbs
Rick Hawn vs. Drew Fickett 170 lbs
Blaine Shutt vs. Harris Bonfiglio 125 lbs
Stephen Stengel vs. Damien Trites 185 lbs
Artur Minev vs. Tony Pike 160 lbs
Jeff Joy vs. Shawn Johnson 135 lbs
Tommy Lee Davis vs. Kareem Kline 185 lbs
Amateur Card
Josh Medeiros vs. John Medina 130 lbs
Vacant Featherweight Amateur Championship
Mike Jolicoeur vs. Jacob Cortigiano 145 lbs
Joao Gomes Junior vs. Jarrid Digangi 185 lbs
Carlos Balestier vs. Sean Nichols 135 lbs
Chris Smith vs. Deven Richard 155 lbs
Joshua Rosario vs. Paul Cavagnoulo 160 lbs
Qasim Abdulla vs. Fred Allen Sfeir 140 lbs
Background
Jake Pilla and John Douma will square off for the Combat FC bantamweight title in the Combat FC 5 main event.

UFC vet, Randy Costa faces Johnny Campbell + much more!