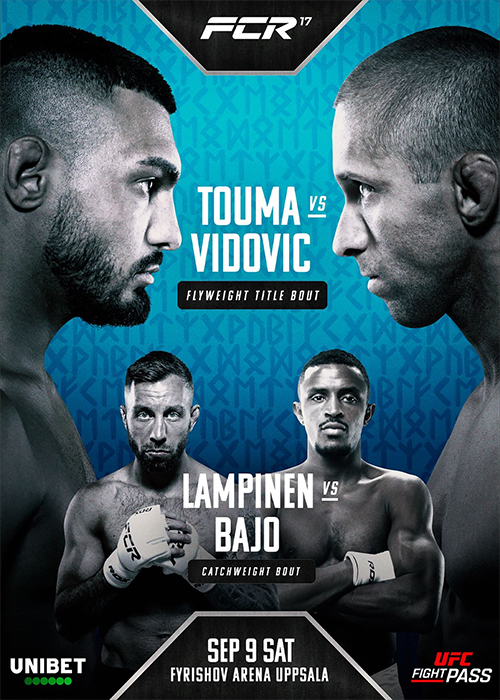 FCR 17: Touma vs. Vidovic is a mixed martial arts event promoted by Fight Club Rush and will take place on September 9, 2023 at the Fyrishov Arena in Uppsala, Sweden.
Fight Card

Main Card (UFC Fight Pass)
Jonny Touma vs. Renato Vidovic 125 lbs
Vacant Flyweight Championship
Toni Lampinen vs. Christopher Bajo 174 lbs
Dimitris Dimitriadis vs. Raymond Johansson 145 lbs
Nina Back vs. Josefine Modig 115 lbs
Waltteri Hakkinen vs. Martin Corney 145 lbs
Erik Wahrolen vs. Ibrahim Halil Milli 155 lbs
Arlind Berisha vs. Mustafa Atrakchi 205 lbs
Ali Yazbeck vs. Kevin Osorio 141 lbs
Nabil Malki vs. Maycon James 176 lbs
Moein Ahmadi vs. Daniel Karlsson 174 lbs
Viktor Mangs vs. Randy Fungula 155 lbs
Pasha Tarzi vs. Benjamin Mosavi 185 lbs
Background
A new Swedish MMA market will be explored on September 9th as Fight Club Rush 17 will go down at Fyrishov Arena in Uppsala - the first ever pro MMA event in the city!

The milestone will get an appropriately massive fight card headlined by a fight for the inaugural flyweight title in a must-see bout between Renato Vidovic and Jonny Touma and Finnish striker Toni Lampinen will return to FCR to take on Christopher Bajo.

Vidovic and Amir Malekpour faced off in what was supposed to be a bout determining the new champ at FCR 16, though the fight ended in a No Contest due to an inadvertent eye poke. While Malekpour has elected to pursue other opportunities, Touma now makes his much-anticipated return to FCR.

Gothenburgs Vidovic is a five time Swedish MMA champ and two-time IMMAF European champion. Since a loss to Tuomas Grönvall; Finlands best bantamweight, in his pro debut, Vidovic has remained perfect, lining up four straight, impressive wins.

Aside from a TKO win over Eli Elias at FCR 5 Vidovic has also defeated flyweight stand out and future title contender Rohulla Yousefi and veteran Binh Son Le.

According to Tapology Touma is the highest ranked flyweight in Northern Europe and he has fine credentials to back that up with a gold medal in the Swedish Amateur MMC Championships and a bronze medal in the IMMAF European championships.

Touma holds emphatic wins in FCR, with a decision over Ilaz Zabelaj and a fantastic submission win over Safi Husseini. While Touma has other, impressive victories to boast about, no win this far has been bigger than the 2021 Swedish "Fight of the Year", in which he defeated Zoran Milic via decision in one of the all time best fights in Sweden.

Unfortunately Christian Stigenberg has been forced out of his co-main event bout with Toni Lampinen (8-5) due to a rib injury. Malmö striker Christopher Bajo (3-2) will now step up from his planned bout with Daniel Karlsson (2-1) to take on Lampinen! This means that fan favourite Moe "Slim Boy" Ahmadi (4-5) will now move in to face Karlsson in a shuffling of fighters.

Lampinen made his FCR debut at FCR 16 in the now legendary fight against Andreas Gustafsson. The two battled back and forth in a grueling, violent and exceptionally bloody fight that almost went two full rounds.

Despite several great moments in the fight Lampinen would go on to lose via TKO late in the second round, but winning the hear and admiration from MMA fans around the world.

Bajo is a seasoned thaiboxer and Swedish Muay Thai champion. He made the move to MMA in 2021, losing a decision to Christian Stigenberg in his first pro MMA fight. After that Bajo went on a roll, finishing Abdallah Habib and Moe Ahmadi before scoring a win in UAE Warriors.

In his most recent MMA fight, which took place in March of last year, Bajo would be forced to tap to Souhil Tahiri. Since that bajo has returned to his Muay Thai roots, defeating current world champion Mustafa Aboutaka amongst others.

Karlsson is a former representative of the Swedish National MMA Team with amateur wins over the likes of world silver medalist Robin Enontekiö.

In December of last year Karlsson made his pro debut against Daniel Bergström, winning via second round TKO. He followed that up with a hard-fought decision win over Finland's Tommi Leinonen at FCR 15 in March this year.

In his most recent outing Karlsson made his Cage Warriors debut, facing local favourite Dario Bellendi in Italy. Despite a spirited performance, Karlsson would be defeated via submission.

Ahmadi is a true fan favorite who has captured the hearts of the MMA masses which his colourful personality, exciting finishes and the best entrances in Sweden.

While getting off to a tough start in his pro career with losses to the likes of Adam Westlund Ahmadi bounced back in the main event of FCR 7, submitting Elvin Hoxha. After yet another victory outside of FCR Ahmadi returned to the promotion to face the above mentioned Bajo, losing that and his following bout via TKO.

Never one to fret, Ahmadi returned with an emphatic submission win over Abdallah Habib and followed it up with by tapping out Rick Gangia at FCR 14. In his latest outing Ahmadi faced Finnish veteran Patrik Pietilä, losing via second round TKO.