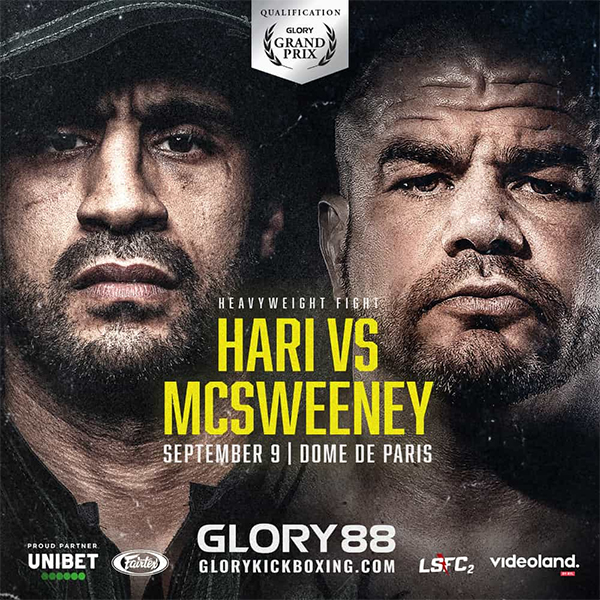 Glory 87: Hari vs. McSweeney is an upcoming kickboxing event produced by Glory that is scheduled to take place on September 9, 2023, at the Dôme de Paris in Paris, France.
Fight Card

Main Card
Heavyweight 95+ kg Morocco Badr Hari vs. United Kingdom James McSweeney
2023 Heavyweight Grand Prix Qualifier
Super Bantamweight 55 kg United States Tiffany van Soest (c) vs. France Sarah Moussaddak
Women's Super Bantamweight Championship
Heavyweight 95+ kg Algeria Nordine Mahieddine vs. France Abdarhmane Coulibaly
Featherweight 65 kg Germany Denis Wosik vs. Albania Berjan Peposhi
Light Heavyweight 95 kg France Pascal Touré vs. Romania Ștefan Lătescu
Welterweight 77 kg France Karim Ghajji vs. Serbia Nikola Todorovic
Lightweight 70 kg France Jonathan Mayezo vs. France James Condé
Middleweight 85 kg Morocco Iliass Hammouche vs. Germany Florian Kroger
Welterweight 77 kg France Diaguely Camara vs. Morocco Ilyass Chakir
LSFC 2
Catchweight 75 kg Germany Philippe Ngatchou vs. France Axel Alfandari
Catchweight 84 kg France Ibrahima Doukansi vs. France Théo Avon
Lightweight 70 kg France Lionel Picord vs. France Lissandre Mercier
Background
GLORY returns to French soil for the first time in over four years with GLORY 88 on September 9 at the Dome De Paris in France.

Kickboxing legend Badr Hari (106-17-2, 92 KO) is officially back and will face-off against the experienced James McSweeney (46-6, 28 KO) in the main event where the winner will qualify for the GLORY Heavyweight Grand Prix in December.

Hari was last seen in action last October in his mega fight with Alistair Overeem. The 38-year-old returns now and has his eyes set on booking his spot in the Grand Prix for a chance to win $500,000.

McSweeney, who fought valiantly against Gokhan Saki at GLORY COLLISION 3, enters this bout with confidence having defeated world & European Muay Thai champion Buğra Erdoğan this past December. The well-travelled Brit has fought all over the world, against some of the biggest names in combat sports, and is relishing the opportunity to step in the ring with Badr Hari.

A huge title fight rematch will take place in the co-main event as rivals Tiffany 'Time Bomb' van Soest (24-6-2, 9 KO) and Sarah Moussaddak (8-3, 1 KO) lock horns once again.

Considered by many to be the P4P best female kickboxer on the planet, van Soest scored a decision victory over Moussaddak at GLORY COLLISION 4 last October, in a close contest where both fighters felt they did enough to earn the victory.

Moussaddak then bounced back with a dominant win over Giuliana Cosnard at GLORY 86 and immediately wanted a second shot at the American. Now the duo will finally settle the score once and for all in Paris.

The rest of the card is stacked with some exciting names and thrilling fights. French Algerian Nordine Mahieddine (27-15, 12 KO) collides with France's Abderahmane Coulibaly (58-20-1, 25 KO) in a big heavyweight contest, Germany's Denis Wosik (37-8-1, 9 KO) meets the super popular Albanian Berjan Peposhi (27-3, 16 KO), former GLORY title challenger Karim Ghajji (103-17-1, 53 KO) returns and squares-off against Serbia's Nikola Todorovic (26-3, 14 KO), and Iliass Hammouche (32-6, 7 KO) will finally make his much anticipated debut against Germany's Florian Kroger (19-9, 6 KO).

The event is headlined by a heavyweight bout between Badr Hari and James McSweeney, which furthermore serve as a qualifier for the Glory Heavyweight Grand Prix.