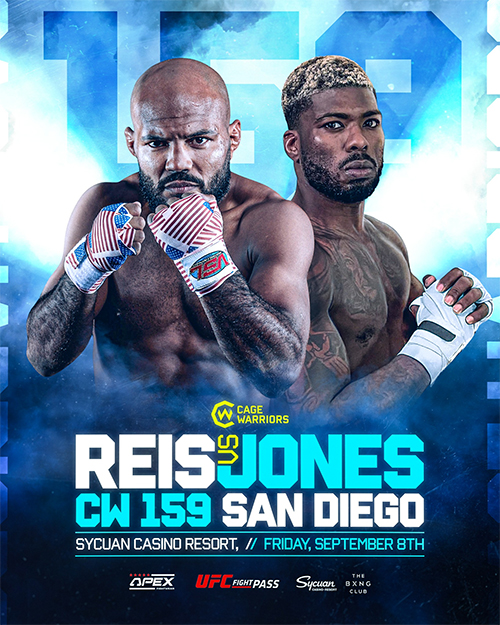 Cage Warriors 159: Reis vs. Jones (also known as Cage Warriors 159: San Diego) is a mixed martial arts event to take place on September 8, 2023 at the Sycuan Casino Resort in San Diego, United States.
Fight Card

Main Card (UFC Fight Pass)
Wilson Reis vs. Trevin Jones
Roberto Hernandez vs. Toby Misech 145 lbs
John Andrus vs. Mason Iacobellis 125 lbs
David Lòpez vs. Terrance Saeteurn 125 lbs
John De Jesus vs. Elijah Leggett 145 lbs
James Settle vs. Brian Mitchell 135 lbs
Bobby Winther vs. Marcus Walston 170 lbs
Jeremy Fattorusso vs. Ritchie Rodarte 165 lbs
Sean Rose vs. Ian Daube 265 lbs
Anthony Warken vs. Manuel Medina 125 lbs
Alex Trinidad vs. Lucas Martino 160 lbs
Background
Cage Warriors returns to the sunshine state once again on Friday, September 8th with CW 159!

On the back of two blockbuster fight nights at California's first and luckiest casino, Europe's leading MMA organisation will once again take up residency at the Sycuan Casino Resort to bring the summer season to its close with a bang!

With the likes of San Diego's Wilson Reis, Robert Hernandez and Jamey Lynch lining up alongside CW fan favourites Damon Wilson, Kyle Driscoll and John De Jesus on previous Cali cards, fans can look forward to another action-packed night of mixed martial arts in the famous yellow gloves on September 8th!

Cage Warriors will make its debut in the MetaVerse this Friday night, as CW 159 becomes the first event in the promotion's 20+ year history to be broadcast in the Xtadium.

As recently revealed by Meta and the Ultimate Fighting Championship, the two industry titans have joined forces to bring the drama and excitement of live MMA action on UFC Fight Pass directly into fans' own homes via the immersive magic of VR.

Fans will be able to catch action from Cage Warriors 159 and more via Xtadium, the premier, co-watching VR sports hub on the Meta Quest Platform, with a dedicated UFC world in Meta Horizon Worlds scheduled to launch later this year.