Site Admin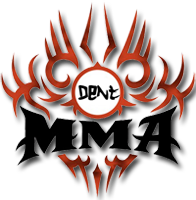 Joined: Tue Apr 07, 2009 12:53 pm
Posts: 12506
Location: In front of you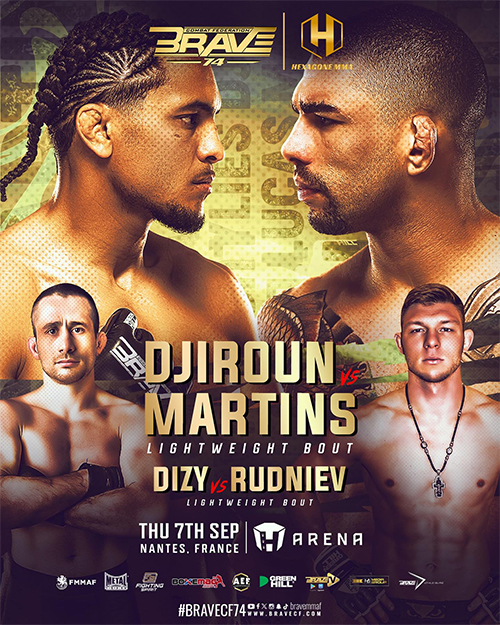 BRAVE CF 74 will be a mixed martial arts event held by Brave Combat Federation on September 7, 2023 at the H Arena in Nantes, France.
Fight Card

Main Card
Lightweight 70 kg France Ylies Djiroun vs. Brazil Lucas Martins
Lightweight 70 kg France Anthony Dizy vs. Ukraine Vladyslav Rudniev
Heavyweight 120 kg France Salim El Ouassaidi vs. Lithuania Pavel Dailidko
Bantamweight 66 kg Azerbaijan Ali Guliyev vs. Serbia Borislav Nikolić
Catchweight 81 kg France Levy Carriel vs. France Mathieu Rakotondrazanany
Hexagone MMA 11
Middleweight 84 kg France Laïd Zerhouni vs. Brazil Alessandro Macedo
Vacant Middleweight Championship
Featherweight 66 kg Algeria Chabane Chaibeddra vs. Argentina Bruno Conti
Lightweight 70 kg France Thomas Glot vs. France Quentin Domergue
Featherweight 66 kg Hungary Gergely Csibi vs. France Nacim Belhouachi
Heavyweight 120 kg France Tamerlan Albiekov vs. Czech Republic Jindřich Krajča
Heavyweight 120 kg Senegal Didier Touré vs. France Anthony Morel
Amateur bouts
Super Lightweight 75 kg France Malik Abdouraguimov vs. France Dylan Hervouin
Heavyweight 120 kg France Bafode Gassama vs. France Ferdinand Bretelle
Catchweight 68 kg France Ugo-Antton Vidal vs. France Fathi Tiroglu
Background
A lightweight bout between Ylies Djiroun and former champion Lucas Martins headline the event.

BRAVE Combat Federation always pushes the envelope by producing world-class and riveting shows. Next week, on September 7, the most global MMA promotion will remain true to form as it will roll out an exciting Lightweight 'Grand Prix' of sorts when it touches down in Nantes, France.

The BRAVE CF 74 main event sees former BRAVE CF Lightweight champion Lucas Martins take on Ylies Djiroun, while the co-main event will have Axel Sola take on Vladyslav Rudnie, with both fights fought at the 155-pound weight limit. While each fight has its distinctive storyline and dynamic, both contests offer a pathway to the undisputed BRAVE CF Lightweight Champion, Abdisalam Kubanychbek.

For the main eventers, it will be a second shot at glory when veterans Martins (21-6) and Djiroun (19-7) chase the BRAVE CF golden strap. Martins has made no secret about reclaiming the Lightweight throne after earning it almost five years ago at BRAVE CF 11. After three losses, eight cancellations, and one victory, the 34-year-old Martins has a small window to capitalize on after building some good momentum at BRAVE CF 60, where he knocked out compatriot Henrique Marques in the first round. He will now look to make the most of his shot against the Frenchman and imprint his dominance on the division again.

While Martins will be driven by having tasted BRAVE CF gold before, Djiroun will have the entire French fanbase behind him. "Tupek" has traveled the world with BRAVE CF, competing in Bahrain and Belarus thus far, which included two impressive wins. Since making his BRAVE CF debut, the submission specialist has pleaded for a fight in his homeland, and his last dominant win over Kazakhstan's Olzhas Eskaraev proved that not only does he deserve a slot on the BRAVE France card but also a mention when it comes to contendership. After 26 professional fights, the former French Pancrase champion is now on the cusp of earning his first global MMA title shot, and what better way to do so than in front of your countrymen and women? If anything, the BRAVE CF 74 co-main event will offer a window into the future of the Lightweight division.

While Martins or Djiroun may potentially be next in line for the title, there can be no doubt that the match-up between France's Sola (6-0) and Ukraine's Rudniev (6-0) will identify who could be competing for the title down the line as these two warriors usher in the new era of 155-pound stars. Both athletes are unbeaten in their young professional careers and are putting their unblemished records on the line on the biggest platform. Sola - a former pound-for-pound number one amateur champion - has now dropped from Welterweight and will look to make a big statement in his backyard when he faces the Poland-based four-time Combat Sambo World Champion, Rudniev. Sola has only once competed outside the BRAVE CF cage, all of which have been successful outings, including three stoppages and three unanimous decision wins.

Rudniev makes his BRAVE CF debut next week, but the man hardly needs an introduction after blowing up when he defended his Combat Sambo World title three times before transitioning to MMA. A victory over the home-favorite Sola will catapult the Ukrainian into contendership and light up Kubanychbek's radar.

With two explosive Lightweight bouts coming up, the Kyrgyz has made no secret about his interest in the upcoming BRAVE CF 74 event. Just last week, Martins called the champ out, stating that he wanted to fight him before the year ended, to which Kubanychbek responded: "I am ready when you are, bro."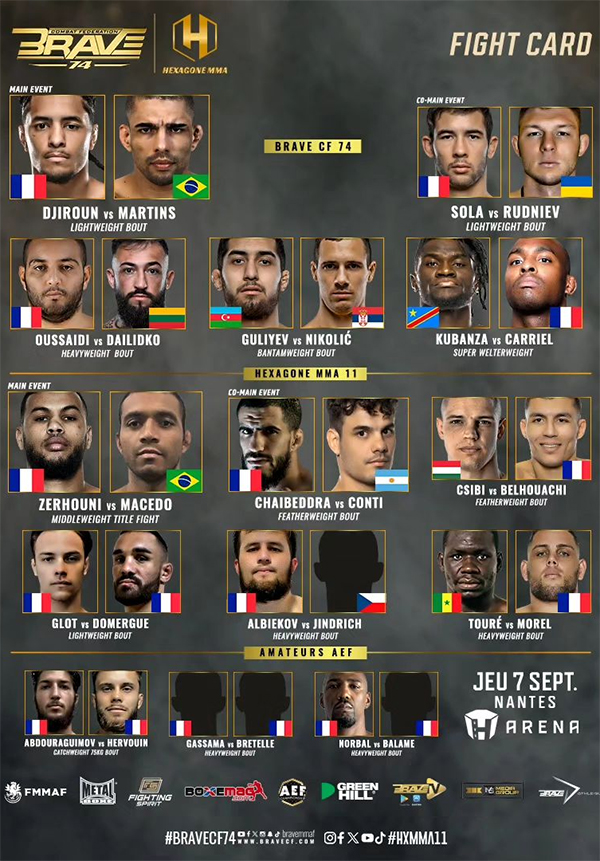 _________________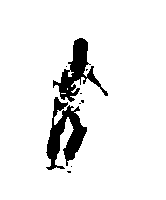 So you wanna be a [bleeping] member? => Get access to the community <=

Looking for a seedbox? RuTorrent, qbitTorrent, Deluge and Transmission included in all packages! Unlimited torrents, unlimited transfers!
Perfect for both beginners and professionals. Watch the files directly in your browser without downloading or download to your device, up to you!


Really Fast 1 Gbit seedboxes - Professional support 24/7/365 - Click to learn more
To get a recurring 10% discount on all seedbox packages use the PROMO CODE: mmatorrents