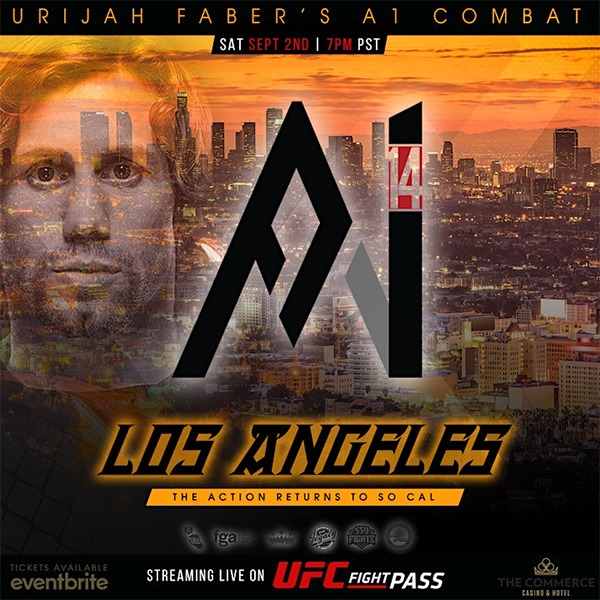 Urijah Faber's A1 Combat 14: Sanchez vs. Hoch is a mixed martial arts event promoted by Urijah Faber's A1 Combat and will take place on September 2, 2023 at the Commerce Casino in Los Angeles, California, United States.
Fight Card

Main Card (UFC Fight Pass)
Alex Sanchez vs. Eddie Hoch 155 lbs
Vacant Lightweight Championship
Eimar Hernandez vs. Rodney Kealohi 125 lbs
Anthony Figueroa vs. Sherrard Blackledge 155 lbs
Steve Mora vs. James Guidry 135 lbs
Christopher Cruz vs. Miguel Ceja 125 lbs
Teruto Ishihara vs. Bruno Souza 135 lbs
Angel Blackwell vs. Jessica Link 115 lbs
Patrick Becker vs. Kristien Ruffin 170 lbs
Preliminary Card
Tsvetomir Todorov vs. Kallum Parker 145 lbs
Kohl Laren vs. Chris Cross 155 lbs
Ilias Faquiri vs. Aaron Thomson 185 lbs
Background
Urijah Faber Presents A1 Combat 14 Sanchez VS Hoch Lightweight Title this Saturday at the Commerce Casino. 12 bouts of Pro MMA in the cage!