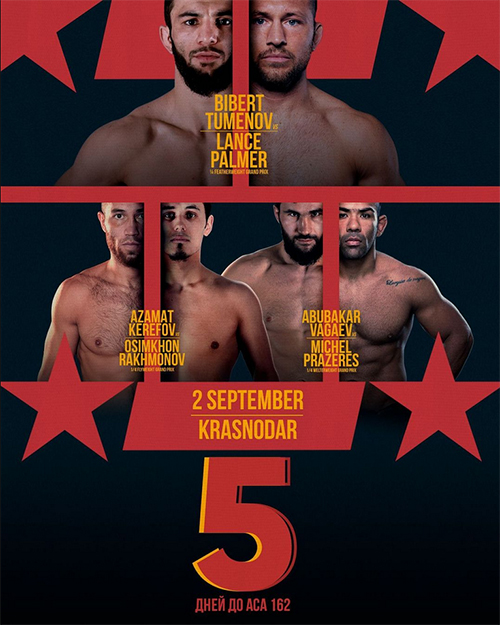 Absolute Championship Akhmat 162: Tumenov vs Palmer is a mixed martial arts event to be held by Absolute Championship Akhmat on August 11, 2023 at the Basket Hall in Krasnodar, Russia.
Fight Card

Main Card
Featherweight 66 kg Russia Bibert Tumenov vs. United States Lance Palmer
Featherweight Grand Prix Quarter-Final bout
Welterweight 77 kg Russia Abubakar Vagaev vs. Brazil Michel Prazeres
Welterweight Grand Prix Quarter-Final bout
Flyweight 57 kg Russia Azamat Kerefov vs. Tajikistan Osimkhon Rakhmonov
Flyweight Grand Prix Quarter-Final bout
Middleweight 84 kg Russia Artem Frolov vs. Brazil Cleber Sousa
Light Heavyweight 93 kg Russia Adlan Ibragimov vs. Russia Oleg Olenichev
Preliminary Card
Middleweight 84 kg Russia Murad Abdulaev vs. Brazil Irwing Romero Machado
Featherweight 66 kg Belarus Apti Bimarzaev vs. Brazil Carlos Augusto
Lightweight 70 kg Russia Bayzet Khatkhokhu vs. Russia Abubakar Mestoev
Lightweight 70 kg Brazil Felipe Froes vs. Russia Khalid Satuev
Flyweight 57 kg Russia Astemir Nagoev vs. Kyrgyzstan Myrzamidin Pazylov
Lightweight 70 kg Russia Abdul-Rakhman Temirov vs. Russia Vladimir Palchenkov
Featherweight 66 kg Russia Zamir Aripshev vs. Brazil Marcos Rodrigues
Welterweight 77 kg Russia Yakub Sulimanov vs. Russia Amazasp Martirosyan
Featherweight 66 kg Russia Islam Meshev vs. Russia Rustam Asuev
Heavyweight 120 kg Azerbaijan Ruslan Medzhidov vs. Brazil Caio Bittencourt
Background
An ACA Lightweight Championship unification bout between current champion Abdul-Aziz Abdulvakhabov and interim champion Mukhamed Kokov was scheduled to headline the event. However, for health reasons the bout was postponed on october 4.

A quarter-final bout for the 2023 ACA Featherweight Grand Prix between Bibert Tumenov and former two-time PFL Featherweight champion Lance Palmer headline the event.

A quarter-final bout for the 2023 ACA Flyweight Grand Prix between former champion Azamat Kerefov and #9 ranked Osimkhon Rakhmonov will take place at the event.